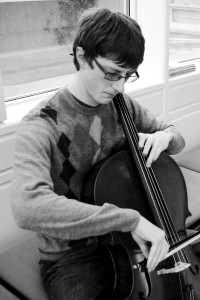 "My philosophy is that fulfillment in any art or profession comes when your own work, words and actions are of benefit to yourself and those around you," says cello performance major Jacob Bedroske. We should expect to see his philosophy in action during his upcoming senior recital.
Bedroske will be playing an all 20th century program: Francis Poulenc's sonata for cello and piano, three pieces for cello and piano by Nadia Boulanger and a solo cello suite by Gaspar Cassado.
"But don't let that scare you away! It's all pretty consonant, really!" he defended. "Expect quirkiness mixed with simplicity and beauty, all topped off with some Spanish drama."
A cellist since age six, Bedroske has considerable respect for the instrument.
"I just loved its sound," he explained, "and definitely still do. It's a hugely versatile instrument, and feels physically very natural to play. Plus, you always get to have a seat!"
His instrumental repertoire isn't reserved to the cello, however. He can play the trombone and plays bass guitar for a "progressive nerd trash metal" band called Forcefield from Menasha.
Bedroske has a particular penchant for music that pushes the boundaries of its genre—progressive and unusual music. But artists who stick to their genre and are good at it are great, too.
"Lately I've been on a metal and electronic music kick," he continued. "Yes, Dream Theater, Revocation and a lesser-known producer Seven Lions are some of my favorite artists, just to name a few. For cellists, some influences are Lynn Harroll, Jacqueline Du Pre and Apocalyptica."
As he hails from Oshkosh, Bedroske explored many distant schools before realizing that it wasn't necessary to go far away to find a fantastic education. "Lawrence basically had everything I wanted," he said. "And while I'm far enough away that I'm not pestered by my family, it's close enough that I can go back and visit and get free laundry and food to boot."
He has been, all things considered, very much pleased with his experiences here. His professors have all been helpful and personable, and outside of occasionally not being able to find a practice room, the Conservatory has expanded his playing hugely in both technical and artistic respects.
"The best part about Lawrence, though, is the people here," he concluded. "I've made so many wonderful friends and connections here that will definitely last a long time."
For the time being, Bedroske's post-grad plans are to stick around town. He works at Stringworks in Appleton, a stringed instrument workshop and seller. He will likely also audition for some orchestras and ensembles in the area, "play the scene" a bit, as he definitely wants to keep musical collaboration as a part of his life.
On campus, Bedroske is involved in Gaming Club and Computer Science Club.
"It's so much more than couch potato escapism," he explained, "especially when multiple people are playing together!"
He is an automobile nut as well, especially classic models of all nationalities. ("Saab-in' for life!")
He is also involved in the Heavy Metal Ensemble of Lawrence University. "Our concert is May 2 at 8 p.m. in the Chapel," he said.
Bedroske wishes to deliver a gargantuan pile of thank yous toward his accompanists Michael Gold and Evan Conway.
"I owe you guys like a million drinks," he said.
The recital will be on April 15 at 8 p.m. in Harper Hall.