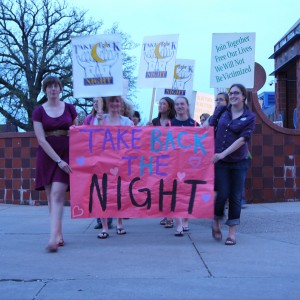 In the United States, one in four women are victims of abusive relationships, occurring disproportionally to women ages 16-24. At Lawrence University, that age and gender bracket includes a little over fifty percent of the student population. Some students knew they had to do something to bring attention to this issue at Lawrence.
"Since Lawrence is such a small campus, it's hard for people to come forward about issues like this," Art House Liaison and junior Sophie Durbin said. "The more we reach out and show that there are people who believe something needs to be done about it, the more people that will come forward."
For the third year in a row, a collection of student and community groups, spearheaded by Downer Feminist Council, hosted a week of events about domestic abuse and sexual assault, centered on Wednesday's Take Back the Night march.
On May 7th, the day before the march, a collection of student and community groups, including Downer Feminist Council, SHARB, LifeLine, GLOW and Harbor House hosted a tabling fair in Warch. Tables shared resources and information regarding sexual and domestic violence.
"If someone leaves this fair knowing more about issues of domestic violence and can name some places in the community that can help, I've achieved my goal," Downer Feminist Council President and junior Lauren Schulte said.
On-campus resources were highlighted, including Lawrence's LifeLine suicide prevention program, run through counseling services.
"Sexual assault and domestic abuse are very traumatic events and have an important effect on health and safety, emotionally and mentally," student representative of LifeLine and junior Rachel Calvert said. "We're here to help people affected by those events as they work through the emotional trauma."
The fair also hosted representatives from Harbor House, one of Appleton's domestic abuse shelters and programming centers.
"Harbor House is here to raise awareness for people who may need our services, to show that we're here in the Appleton community," Education and Outreach Advocate Christina Romatowski said. "We also are here to recruit people who might be interested in working with this issue."
Students interested in volunteering with Harbor House can contact junior Corinne Kocher, who has been volunteering for the past three years at the Appleton shelter.
"One of the easiest ways to get involved is providing childcare while women are in support groups," Kocher said.
Helping provide support for victims is a priority for people working on domestic and sexual abuse and is one of the key components of the Take Back the Night march.
"Take Back the Night is the landmark event of its kind," Durbin said. "It takes place during the night as a metaphor, because so often the first thing you hear as a rape prevention tip is to not go out at night alone. Take Back the Night is a group of passionate people going out and taking the night back."
Take Back the Night is an event held nation-wide to raise awareness that domestic violence and sexual assault are still problems within many communities and provide a healing space for victims. The Lawrence march concludes with a speak-out portion where victims can share their stories in a safe, supportive space.
In tandem with Take Back the Night, a forum on sexual violence was organized by junior Huma Hakimzada this past Wednesday from 5:00-6:15 p.m. in Warch. The forum was a response to a panel on rape culture that was held during Women's Empowerment Week earlier this term. Said Hakimzada of the event, "At the panel [during Women's Empowerment Week] we only had a few guys, and most events like this are attended by women. At the forum there were a lot more guys and, more importantly, guys that were asking and responding to questions. This is a very sensitive topic and the fact that students, both guys and girls, are showing willingness to talk about it and understand it better is the first step to making a difference and fixing the problem."
This year, Lawrence's march opened with author, blogger, and businesswoman Leslie Morgan Steiner, activist and author, who discussed domestic abuse with the members of the Lawrence and Appleton communities.
"Not only are we here as a group of people for anybody who needs an emotional outlet, but we're here speaking out against these issues," Schulte said. "Even if somebody is in the audience who has never revealed their abuse, they can see us talking about it and know they're not alone."