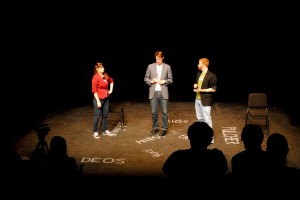 Last Thursday night, May 2, the Cloak Theater was filled with laughter. Popular Lawrence University improv group, formerly known as "Hi, I'm Prov" and currently known as "Optimistic Feral Children," warmed up the stage for the professional, Chicago-based improv group "Octavarius."
When Octavarius went on, they did not just hit the stage. They worked the entire room, running up and down the aisles high-fiving anyone they could, proclaiming with excitement how many new best friends they made. Right away, the whole audience was engaged.
The troupe, comprised of five friends who graduated from Illinois State University, started simply. They took turns finishing the phrase, "I like my women like I like my motorcycles/golf," and then proceeded to tell jokes in the style of comedian Jeff Foxworthy. These skits proved to be challenging because of their fast pace, but each player stepped up right after the other. They used these shorter sequences as icebreakers to get a more comprehensive feel for their audience.
Pressing forward to a more elaborate guessing game, one player, the "murderer," left the room. Directed by the other players, the audience determined the weapon, the location of the murder and the person who was murdered to be a plunger, Anne Frank's attic and Bart Simpson, respectively. When the absent player entered, he had to guess these parameters through an interrogation with "drunk" and "precious" cops. The "murderer" was able to guess all of the answers without much trouble. One of the two cops was a bit too obvious too soon with hints, but the overall effect of the game was successful.
Perhaps the longest game the troupe played was called "Nefarius." It started with the players presenting a series of monologues on various topics. Then, they acted out a series of scenes based on the subject matter of the monologues. One player, the "troll," had to slyly try to ruin the scenes. Though this skit went a bit long, recurring characters and themes, such as 400-year-old Bertha and civil war reenactments and their likeness to orgies were absolutely hilarious.
The last game was another guessing game, which took five suggestions from the audience: Slinky, shrimp and grits, Fresh Prince of Bel-Air, the Taj Mahal and the hockey playoffs. The rest of the band had to describe these things to the other player, but they could not use English. The game was not over until the one player could guess all five subjects.
The most exhilarating part of the night occurred when the player had to guess shrimp and grits. Decidedly a very hard thing to describe, let alone without using words, the players' descriptions were kooky and got wackier when the guesser was having trouble. The tension in the room once he got close to guessing was palpable, and the crowd went wild, as if he had scored the winning goal, when he guessed correctly.
Octavarius put on a show close to 90 minutes. They never missed a beat; someone always jumped in to fill the silence. Their games were complex and creative, and they rose to the challenges they created. Their warmth towards the audience was genuine and encouraged more participation. All in all, Octavarius was "So Nefarius!"