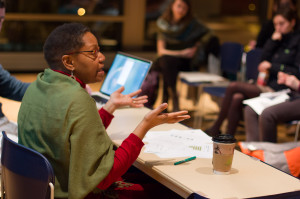 The Lawrence chapter of Amnesty International hosted an open discussion in the Esch Hurvis Studio on the evening of Tuesday, Feb. 18, titled "The Hijab Debate: Exploring the Political and Cultural Contexts." The faculty panel consisted of Associate Professor of Anthropology Carla Daughtry and Visiting Associate Professor of History Michael Robert Mahoney. Sophomore and president of Lawrence's chapter of Amnesty International Razan Anabtawi facilitated the open discussion.
Originally from Palestine, Anabtawi is in her first year as president of Amnesty International and is an anthropology and human geography double major. She said the idea for the panel was the result of many conversations with students, Amnesty members and faculty members. The focus of the event was the controversy surrounding Muslim dress and the Western critique of the hijab as a form of oppression.
"I felt like there were a lot of perspectives from the Arab world that were not being presented in American discourse, so I just thought, why not Lawrence and why not now?" Anabtawi said. "I just felt like there was a need to create a platform for this discussion where everyone could come together and voice these questions and opinions."
Although there are no hijab-wearing Lawrentians on campus, there are Muslim students.
"The Appleton community has a relatively large population of Egyptians, Syrians and women who wear the hijab," Anabtawi said. In addition, international or exchange students from Jordan, Pakistan and Turkey were present and participated in the open discussion.
Professor Mahoney began the panel with the historical context of the hijab. Mahoney stated that veiling did not originate in the religion of Islam but in Christianity, which can be seen in traditional habits worn by nuns. The Qur'an is also not specific about the type of modest dress that women must wear.
Professor Daughtry outlined the complex cultural context and reasoning behind the veil. She explained that forms of head- and body-covering are worn for a cultural and social sense of modesty and a form of pride or honor. The burqa is even seen as a form of "portable seclusion," allowing women to move outside of the home while maintaining their privacy.
"When we talk about a cultural sense of modesty, you do have an individual, but that individual has a family that would teach that sense of modesty and peer groups to enforce it," Daughtry explained. "You have a whole cultural environment that plays a role in pressuring how you're dressing."
Daughtry presented a University of Michigan survey showing which styles of female Muslim dress are thought to be appropriate in seven Muslim countries, including the home countries of students present. This prompted two students from Pakistan to voice their beliefs that the ideal full-body coverage of their country is not the same as the less-covered dress they see in reality.
The open discussion brought up the laws of full coverage in Saudi Arabia, which is enforced by government "morality police" versus the recent laws in France banning the hijab altogether as reflecting strict rules of each side. The discussion mainly focused on the social pressures and the question of Muslim women's choice when it comes to their clothing.
"It is Muslim women's view that veiling as a practice is their way of asserting their views and their religious beliefs," Daughtry said. However, the discussion did bring up that not all religious women choose to wear the hijab and it may depend on their age, socioeconomic background, and whether or not there was an Islamic political party in power at that time.
A central point of the panel was how Western feminists critique veiling as a sign of oppression when in reality Western women are also oppressed. "The hypocrisy of the West is how they position themselves as the great liberators of Islamic women and use that as a justification for intervention," Mahoney explained.
"When you think about the American fashion industry and American beauty standards, they are perhaps no more free than cultural views of veiling," Daughtry said. She used the phrase "tyranny of fashion," as coined by anthropologist Lila Abu-Lughod, to describe this form of oppression in the West.
Mahoney explained that the hijab has also been worn historically as a form of political protest against estern imperialism, colonialism and hypocrisy. Women may wear a hijab as a form of resistance to these things, even if they are not Muslim.
Tammara Nassar, a freshman and a native of Amman, Jordan, attended the panel and expressed her thoughts on the Western hypocrisy of the veil.
"A lot of my friends view the hijab as a form of resistance. A lot of people who wear the hijab view people who don't wear the hijab as the oppressed," Nassar said. "Somebody wearing a bikini can be viewed as oppressed by someone wearing the hijab and vice versa."
"It's a very active and strong symbol," Daughtry said. "I'm wondering if it would ever be possible to deactivate that symbol, make it less charged so one could veil and not veil without judgment."
"The hijab is ambiguous," concluded Mahoney. "It has different meanings that to some are contradictory and that's part of why, even within Islam, there is so much debate."