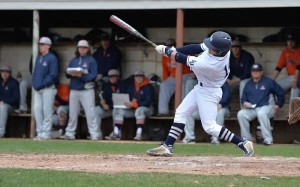 By Nathan Ley
For Jake Gordon, the mental side of baseball has been a struggle in his college baseball career.  Gordon has had quite the journey in his three seasons at Lawrence and experienced many ups and downs.  His freshman year, Gordon was hitting .340, had one of the best freshman averages batting.  Sophomore year, however, was a different story.
"After having a good freshman year I felt like I needed to do better, so I put a lot of pressure on myself," said Gordon, who only batted .220 during his sophomore year.
Following his tough second season, Gordon took some time away from baseball. "I went to London in the fall to get away from baseball. After being away from the game for a little while, I really rediscovered my passion," said Gordon.
After his return from London, Gordon trained for his upcoming season with a new outlook on baseball. Gordon felt that "baseball became almost a job last year, but this year it was fun again."
Gordon's new mentality towards the sport may have been exactly what he needed. This season, Gordon led the Vikings with a .400 batting average, the highest on the team. He also was responsible for a team-high 30 runs and 14 RBIs.
Gordon was rewarded for his impressive season by being selected to the Division III All-Central Region team. He is the first Lawrence player to receive this award since 2010. Gordon is also the first Lawrence baseball player since 2006 to bat .400.
But he was not only a stand out player at the plate. Gordon also stole a team high 10 bases this season and held a .989 fielding percentage. This has been an amazing turnaround for Gordon. Gordon feels that key to his success this year is due his changed mentality.  "I was playing with confidence and just having fun," stated Gordon.
The amazing turnaround for Jake Gordon shows that there is still huge potential for the Lawrence baseball program. Despite Gordon's individual success, though, it is still a team sport. The Vikings only recorded six wins this season.
"The biggest goal for next year is not only to be better individually," said Gordon. "What I really want next season if for us to win as a team, which I think is entirely possible."
With such a great individual season and an optimistic outlook, Gordon hopes that the entire Lawrence baseball program experiences greater success next year.