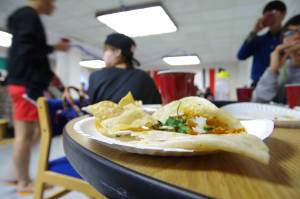 By Ahn Ta
Music, dance, freshly-made quesadillas and authentic Mexican drinks—it was a simple formula that made VIVA's Taquiza Night the highlight of last Saturday, Oct. 4. As soon as the door opened at 5 p.m., the crowd started to flood into Sage Hall basement, not only for the delicious spread of tacos, but also for the company and the cultural immersion.
It was a rare sight to see people happily swaying to music at 6 p.m. One of the early-birds at the party, freshman Yarely Covarrubias was surprised. "The most fascinating thing was that there were not just the Hispanic people that went, but there were a lot of people of different cultures and backgrounds. That just surprised me that people are so fascinated and want to immerse themselves in different cultures and be open-minded to different things," Covarrubias said.
Covarrubias was not the only one. Fifth year Ollin Garcia Pliego, the president of VIVA, Lawrence's very own Hispanic culture club, was also amazed by the huge turnout at their kick-off event of the year. It is also to celebrate the Hispanic Heritage Month which runs from Sept. 15 to Oct. 15 every year and promotes the Latin American culture in the United States as well as bridges the inter-cultural borders.
"It was unexpected. A hundred tacos, thirty quesadillas, thirty empanadas, a lot of soft drinks from Mexico. They were all gone," Pliego said excitedly.
Continuing from a very successful Taquiza Night, VIVA is looking forward to an eventful year with the hope to provide a broader and deeper look into the Latin American culture in an interconnected and global context. The cultural exposure certainly does not end with Hispanic Heritage Month, but rather, it will be a year-round exhibition with a series of connected events.
Many more VIVA events are to come in fall term alone, with the next being the Day of the Dead celebration on Saturday, Nov. 1 in conjunction with Lawrence International's Ethnic Dinner. This year, besides independently-organized events, VIVA is looking at new possibilities of collaboration with other groups on campus. This is an effort not only to let all the different cultures represented on campus come together, but also to reach a bigger audience.
Talking about such collaborations, visiting Assistant Professor of Spanish Gabriel Eljaiek-Rodriguez, VIVA's advisor, was enthusiastic. "We can do something with another group on campus, for example, the Waseda students," he commented. "Although the cultures are very different, if they start doing things together, they can promote both cultures. It will be fun to see different cultures colliding and sharing unexpected common things."
Besides the ambition of a wider outreach, VIVA also aims to provide a closer and more extensive look into all the different spectrums of a kaleidoscopic Latin American culture. In view of an increasingly global world, it is vital for Lawrentians to comprehend the nuanced differences existing in the Latin American culture, as well as to place their cultural understanding into an international context.
"Latin America is a lot of cultures coming together," Eljaiek-Rodriguez said. "We are very different. We speak the same language, we share a lot of things but there is also specificity. So it is a great thing that students are interested in coming close to these cultures to learn more about what is happening in South America and also the relationship between Latin America and the United States."
Setting these goals, VIVA also understands the challenges they face. On a small campus like Lawrence, making people aware of all the different aspects of the Latin American culture is not an easy task. Another problem is the language barrier, but more often it is the students who are not aware of how they can overcome this barrier.
Eljaiek-Rodriguez provided some pointers for non-Spanish speakers: "Sometimes people think that the only way they can approach the culture is through the language," he said. "But you can find a lot of things that can connect with your own culture. There are also a lot of different ways that you can access the culture. It can be literature, cinema, politics or even economics."
Despite the heavy task of promoting and connecting to Hispanic heritage, VIVA is optimistic about a great year to come, as they can count on a growing number of members hailed from a variety of diverse backgrounds and a strong board of leaders. All Lawrentians should be on the lookout for even more great events, such as VIVA Posada in January, the Spanish Film Festival in April, and maybe even more free tacos to come!