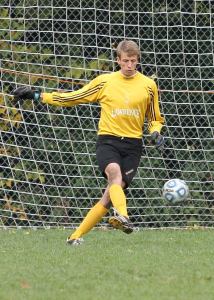 By Pablo Morales
Joe Krivit, a sophomore out of St. Paul, Minn., recently helped the LU Men's Soccer team to two straight shutouts. Krivit has only conceded one goal in the past three games, resulting in two wins and a tie. In this interview, he talks about FIFA, the English Premier League, and adjusting to a young but talented team.
Pablo Morales: You've had a couple of shutout games in the past week or so—that's pretty great. You must be getting along well with your back line.
Joe Krivit: Yeah, absolutely. I don't think a goalkeeper could be successful without a good defense in front of him. We have a young defense, but pretty experienced at this point in the season. We've definitely hit our stride; we're all on the same page. Two clean sheets in a row was nice, and in the third game, we let one slip by us unfortunately against Concordia. Nonetheless, defense has been one of our strengths.
PM: Is it a pretty consistent group of starters?
JK: Yeah, our center backs are Nick Huth and Lewis Berger. Nick's a sophomore and Lewis is a freshman, so we've got young talent there. They've been starting all season. Dominic Pasquesi is our typical starting wingback, and Sean Salansky got hurt but was playing a lot in the back. Aaron Sutton has gotten a lot of time as well, and all in all, it's a talented young group.
PM: It sounds like it'll be a great defense down the road as well.
JK: Yeah, definitely. We struggled a bit earlier in the season with just being on the same page as each other, but as the season has gone on, it's been very rare that we let in more than one goal per game.
PM: I'm sure there were big adjustments at the beginning of the season with some new players on the team.
JK: Our captain and center back last year graduated, and left a big hole to fill, but Lewis Berger has done a great job starting in that spot since the first game. He's a great one-on-one defender, and he's a great ball winner in the air, as is Nick Huth. There's a learning curve for all of us; we stuck together through some bad games and that has helped us out in the long run.
PM: Is the team getting along well?
JK: Absolutely. I would say that's our biggest strength. There are never fingers being pointed. When we win, we know it's because we played well together, and when we lose, it's because all failed in certain aspects. In that regard, it's made the season a lot more enjoyable because we were able to stick together through some rough games. That's hard to find on a lot of teams.
PM: When did you start playing soccer?
JK: I've played soccer pretty much since I could remember. I played forward at first, but wasn't very fast and never passed the ball, so I became a goalkeeper freshman year of high school.
PM: Did you have any role models growing up?
JK: Timmy Howard. There are so many great goalkeepers nowadays, and we have one of the best here on the U.S. National team. I follow him pretty closely with Everton too.
PM: Does it help being able to watch a professional goalie and picking up tips or techniques from it?
JK: It does. As a goalkeeper, you have to rely so much on instincts, like knowing where you are and where your feet should be, so watching how goalies react to different situations is important, because I can train myself to do those things as well.
PM: The last game of the season is this Saturday against UW Superior. Any goals for the game?
JK: Hopefully to allow no goals, and getting to send the seniors off on a high note with a win.