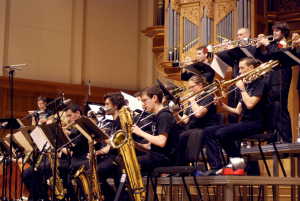 On the evening of Saturday, Nov. 8, the Lawrence Jazz Ensemble and Jazz Faculty with guest percussionist Peter Erskine played the first of a series of concerts dedicated towards funding hunger relief efforts. Working to benefit St. Joseph's Food Pantry, the Lawrence Conservatory is collaborating with Music for Food, a national program for local hunger relief.
Lawrence's partnership with Music for Food in 2013 yielded more than 600 pounds of food and over $500 in donations. Professor of Music Catherine Kautsky, who helped organize the event, encouraged students attending the concerts to bring money or non-perishable food items to donate. "[St. Joseph's] serves over 10,000 individuals a year, and it seems clear that the food and monetary contributions are providing much-needed support," Kautsky said.
Donation bins for food items were located in the Chapel atrium on Saturday, where student volunteers also collected fiscal donations. College Avenue and Washington Street were packed with buses shuttling Appleton community members to and from the concert. Attendees were encouraged to donate before the concert began.
Visiting artist Peter Erskine commended both students and faculty between songs, praising those onstage with him for being "the hippest jazz faculty combo I've ever played with." The groups played several arrangements by former Jazz Professor, the late Fred Sturm, former Kimberly-Clark Professor of music , in his memory. Jazz Director Patty Darling said the conservatory was invested in "working to keep Fred's jazz tradition alive."
Originally based in Boston, Music for Food was started in 2010 by Kim Kashkashian, who is a faculty violist at the New England Conservatory in Boston. "Music for Food is a model that is sustainable and replicable for musicians who wish to act for hunger relief in their own communities," Kashkashian explained.
"I think we at Lawrence feel the same way as Ms. Kashkashian does—we'd like our music to play a role in the lives of people who may be in need in our community," Kautsky said, applauding the support the concert series received from Conservatory staff, as well as members of the student body.
"The students involved have seen it as an opportunity to learn more about the community in which they live, as well as to make themselves useful in that community," Kautsky said. "I very much hope this will continue to be an annual event at Lawrence."
St. Joseph's Food Pantry, located across the Fox River in Menasha, provides pickup for food donations, which they serve to those in need directly. Staff distribute food based on how much of any particular item is available, and will even attempt to provide a birthday cake if a family is celebrating.
On Friday, Nov. 14, the Lawrence Concert Choir, Cantala Women's Choir and Viking Choral will deliver the next in the concert series, followed by the Wind Ensemble and Symphonic Band on Saturday, Nov. 15, and finally the Lawrence Symphony Orchestra on Tuesday, Nov. 18.