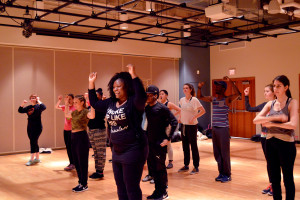 By Emma Arnesen
This past Monday night, Feb. 16, the Lawrence University Dance team hosted a dance workshop with guest choreographer and dance instructor, Kim Elliott.
Co-captain of the dance team freshman Becca Tapia, a former student of Kim Elliott, organized the workshop in hopes of inspiring her teammates and the Lawrence community with the power of dance and self-expression. In the hour and a half that Elliott taught, students were introduced to the style of hip-hop street dance and learned the importance of bringing personality and life into each dance movement.
Elliot, a New York native and NYU dance professor, stated that her main focus is street dance, but she embraces all different types of dance and the ability for individuality. She explained that through this specific dance style "you get to really find yourself and be yourself."
One of the main purposes of sharing her passion for dance and educating others is that she thinks it is important to push this movement forward, to "bring it, you know, to the foreground, opposed to the underground [where it has been] for so many years."
Her emphasis on individual expression is seen through her choreography. Street dance is different, because it does not follow specific rules, but rather introduces a form that shows what the body should or has the ability of doing. In a way, it brings personality and life to the dance. Elliott explained that modern dance today seems to be emulating other peoples' styles. She wants to break this stigma by teaching her students "the beauty of being yourself."
Becca Tapia, who has been working with Elliott for four years, first as a former student at Peridance Capezio Center in NY, then as an assistant dance director, sees Elliott as a great inspiration. Becca described her as being "influential to anyone she meets … and that's what I wanted everyone to experience."
Sharing the same passion for individual expression as her dance instructor, Becca added, "Kim teaches people to be confident in themselves and just be you … She's the one who opened my eyes to accepting that it's okay to be you and be different." In hosting this event, one of Becca's main goals was to involve everyone on campus, not just the dance team.
The class was open to everyone, and it was a chance for students to be able to try something they might not have otherwise. Becca said this event was something that anyone with or without dance background could enjoy.
To Becca, dance has been a very important part of her life. She explained that it inspires her not only as a "dancer" but also as a person. She explained: "It teaches someone to be committed and dedicated in anything they do, complete everything in life with passion and by working hard. Dance teaches me how to better myself in so many ways so I'm grateful for that."
As one of the 2018 LUCC representatives, Becca hopes to coordinate more events that will involve the whole campus. By introducing Kim Elliott to Lawrence, Becca explained that it was like bringing a little bit of her home to Lawrence. She stated, "By having her here today, I feel like I brought a little piece of the Big Apple all the way to the small apple of Appleton."
Kim Elliott's dance workshop involved not just dance team members, but also other members of the Lawrence community in introducing them to hip-hop street dance. It was a fun Monday night activity to learn about a new dance form and have fun, and as Elliott stated, "It's just an honor to be here, just that anywhere that I can bring the culture, I'm there."