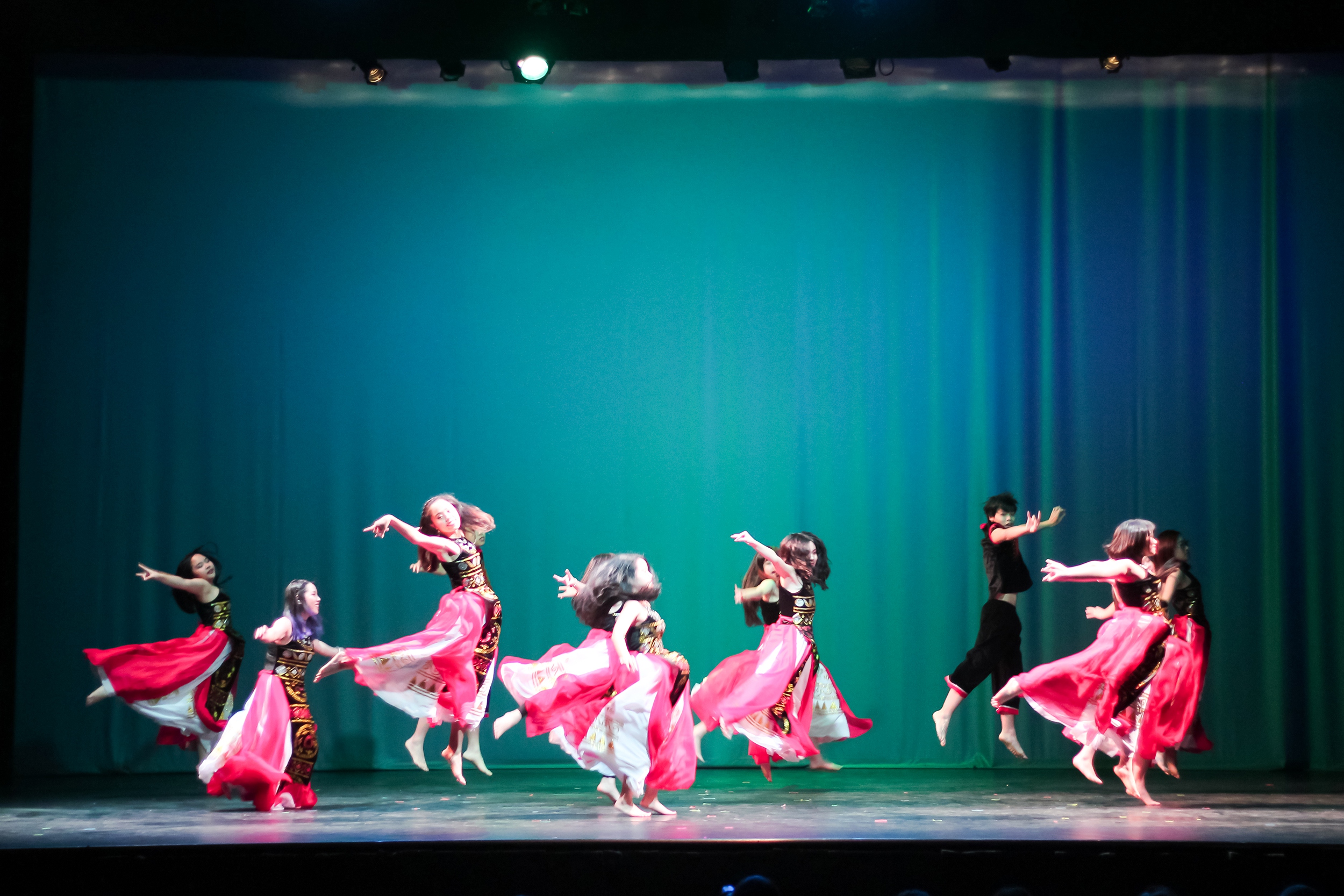 Cabaret performances included traditional Chinese and Vietnamese dances.
Photos by Luke Payne.
On Saturday, April 8 and Sunday, April 9, 2017, Lawrence International (LI) held its annual Cabaret event in Stansbury Theatre. Tickets were $10 for adults and free for students. The Saturday performance began at 6:30 p.m. and the Sunday performance began at 3 p.m. with a reception following the Sunday performance. The event was also livestreamed. The theme of this year's Cabaret was "The Garden of Humanity" to emphasize beauty in a diverse human heritage.
LI is a group that supports international students in adjusting to life in college and in American society. Both domestic and international students are active within the group. LI organizes formals, dinners, expositions and meetings in addition to the annual Cabaret event. The group has over 350 members and has been established on campus for 41 years. Proceeds from Cabaret ticket sales go towards supporting LI-organized events and activities. All student donations go towards the LI grant, which supports student internships and research projects.
Preparations for Cabaret involved LI board members, group leaders, performers, emcees, a technical support team and other volunteers. Planning for the event began in Fall Term and the LI board worked with International Student Services, Communications and the Theatre Department. Junior Tamanna Akram, the President of LI, said, "[We] create a plan, then hire directors and videographers to discuss what our vision is for the year." Auditions began Winter Term and the LI board worked on logistical operations throughout the term. Directors for performances also worked on their piece throughout the year. Junior Jamil Fuller has performed in multiple Cabaret events and organized the gospel choir in this year's Cabaret. He said, "Just the idea of putting a large group together to create some kind of performance for Cabaret was a really cool experience for me." He recalled admiring the coordination that went into big group performances in past Cabaret events. Group leaders are also responsible for submitting rehearsal schedules, meeting with other directors, running group rehearsals and meeting with individual group members. They collaborate with the technical team and begin thinking about elements such as sound, lighting, costumes and stage cues. Fuller also commented on the support in preparing the Joyful Choir piece saying, "People have been really helpful in assisting me, being like, 'oh yeah I'd love to run a sectional for the altos' and things like that." Performers also dedicate themselves to preparing for the event. While it was a challenging schedule at times, freshman Yidi Zhang, who performed with the K pop group, commented, "It's fun to hang out with friends while preparing for this event and I enjoyed all the teamwork we did during the preparation." A group of volunteers also assisted in preparations in the days leading up to the event. Akram commented that the best part of planning for Cabaret was "seeing the amount of dedication everyone puts in to this event. The performers, volunteers, emcees and the board members do not get paid to do this. We put in a lot of time [and] sacrifice other commitments to ensure Cabaret runs smoothly. The amount of commitment is incredible."
This year's Cabaret started with a drumming performance by Sambistas led by Professor of Music Dane Richeson. Performers lined up in the main aisles and filled the room with rhythmic beats. Next, the masters of ceremonies, seniors Jacob Dalton and Kyle Labak introduced the event after a short montage of Broadway songs. The first performance was "Ode of Beauty," a classical Chinese-style dance, followed by the duet performance of "Mexican Ballads." Act One also included a Nepali dance, a German duo, "Dabke" (a traditional dance in seven Arab countries), a Japanese dance, a performance of "A Little Happiness" (a theme song to the popular film "Our Times"), a performance of the Chinese-R&B-rock fusion song "Ju Hua Tai" and the first part of a fashion show. The fashion show featured apparel and flags from numerous countries around the world. Following a brief intermission, Act Two included Joyful Choir, the "Vietnamese Totem Birds Dance," a performance of the contemporary Indian song "Jiya Lage Na," the Thai dance "Tarikipas," a performance of "Te Quiero Tanto, Tanto," a performance of a Nepali song, K pop dance and the second part of the fashion show. Many of the performances such as the Jordanian dance and Joyful Choir also included musicians on the drums, piano and other instruments.
Audience members at Cabaret included students, faculty and Appleton community members. Freshman Christina Sedall who attended the event, said "There were so many people who I know through classes or just in general and […] I didn't know they had those talents." She went on to say, "[Cabaret] spoke to the way that Lawrence students can collaborate with each other. It was beautiful."
Cabaret emphasizes a diversity in cultural backgrounds that students bring to Lawrence. Freshman Anthony Dare, a performer in this year's Cabaret, said, "The biggest thing that I learned from this event [was] how diverse Lawrence is, how many different groups are here and how many people want to learn about different countries." He went on to say, "I think it's really amazing especially since Lawrence is all about inclusivity and diversity."
Junior Malik Graham, a volunteer for Cabaret, said, "I'm hoping that students at Lawrence become more involved with the international students and also maybe [attendees] related to something that they saw on stage and [thought], 'I would love to get involved with K pop next year' or 'I'd like to listen to that kind of music that I heard.' Hopefully there is more integration between non-international and international students, that they come together and be more cohesive."
The theme for Cabaret this year also stimulated new perspectives on diversity. Zhang commented, "The Garden of Humanity means all kinds of diversity including the U.S. For U.S. citizens, we foreign students are part of the diversity, but for us foreign students, the U.S. is part of the diversity." She went on to say, "We all learn to accept and appreciate the beauty of diversity. Cabaret offers me a new perspective toward myself and everyone else in the U.S. Cabaret also allows me to know more about my friends, everyone around me and Lawrence itself better. I respect this community more and enjoy it more as I love it more!"
Akram said, "Cabaret provides a platform for students to share their cultures and there is a lot of work and effort that goes into it. I hope the Lawrence community and beyond understand the impact it has on everyone in the show and continue working on making this a success."