Senior Mauranda Owens singing jazz vocals.
Photo by Julia Balestri.
The voice studio of Lecturer of Music Janet Planet gave a recital on Thursday, May 10 in the Pusey Room inside Warch Campus Center. Planet, an accomplished jazz singer, instructs students in jazz singing as well as general vocal technique.
Five of Planet's students performed at this recital. Most of the selected songs resembled something you might hear during an evening at a cocktail lounge, but a few ventured into other genres. There was even an original composition thrown into the mix.
The first musician to perform was senior Mauranda Owens, who performed "I Can't Give You Anything but Love" by Billie Holiday. It was a smoldering love song; Owens' smooth, sultry voice lent itself well to the music. She was accompanied on piano by senior Jake Victor, who provided harmonies as well as an impressive solo. The songs featured a variety of accompanists on both piano and guitar. Each accompanist interacted with their singer in a slightly different way, bringing their own musical ideas to the songs and making the recital much more engaging.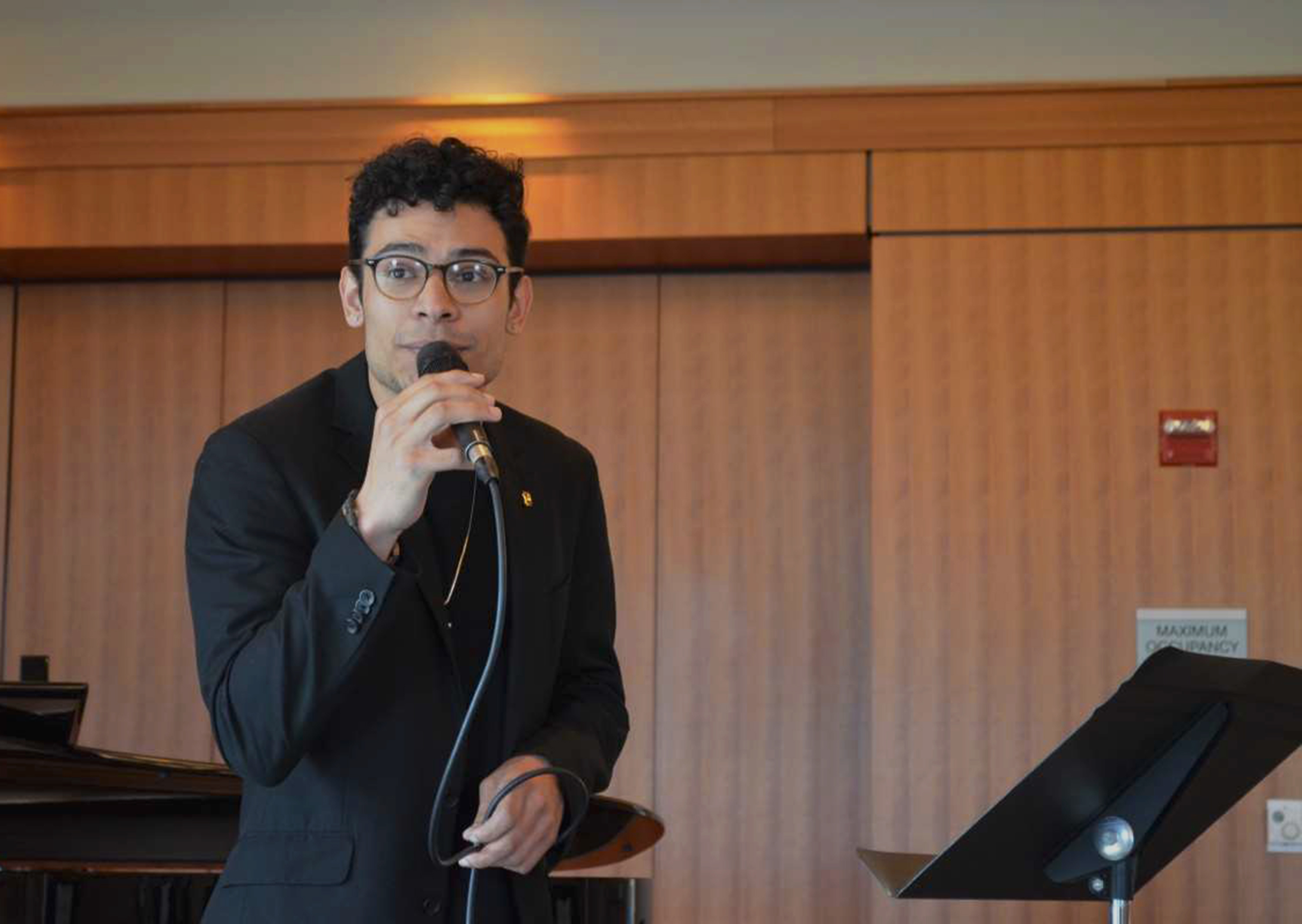 Sophomore Ricardo Jimenez sings "Take FIve."
Photo by Julia Balestri.
Next up was sophomore Yidi Zhang, who performed a George Gershwin tune titled "I've Got a Crush on You." Zhang explained that she had first heard this song covered by a Korean singer and was attempting to recreate that style. She dedicated the song to getting over bad relationships and moving on.
She was followed by sophomore Ricardo Jimenez with "Blue Moon" by Richard Rogers, and junior Elsie Tenpas with "Diamonds are a Girl's Best Friend" by Julie Styne. Tenpas joked that because Planet had told her that this was a "corny" song, she would make every effort to sing it as "corny" as possible – just because.
After the four singers performed another song, there was a change of pace. Senior Milou de Meij announced that she would be performing an original composition titled "Childhood in Montana." The piece was intended to evoke de Meij's experiences growing up. Her lyrics painted a scene of natural tranquility, recalling her rustic childhood home deep in the Montana wilderness. She accompanied herself on the piano; the music was nostalgic and relaxing, expressing the sentiments of peaceful solitude that were apparent in her lyrics.
The recital concluded with an even more dramatic shake-up. Jimenez returned to the stage for a third and final song – "Take Five," by Paul Desmond. This tune was made famous by the Dave Brubeck Quartet's rendition; Jimenez gave it his own personal spin. He began without accompaniment – at first, it appeared to be a standard a cappella song, but Jimenez suddenly launched into a vocal whirlwind that included scat singing, beatboxing and other unusual techniques. He was eventually joined by a piano accompanist for an upbeat and vibrant finale. Although the first half of the recital was fairly standard jazz lounge fare centered around classic themes of love and relationships, the latter half brought some surprises, showcasing the impressive and diverse talents of the students from Planet's studio. I enjoyed and appreciated their performances, and I hope to have an opportunity to hear them again.
Jay MacKenzie