Senior Josh Janusiak (left) has dominated his era as a long distance runner at Lawrence. Sophomore Gabriel Baker (right) has just begun his own era as a thrower.
Photo by Caroline Garrow.
School records can often seem arcane, immortalized on some display on the walls of Alexander gymnasium. However, on the Lawrence University Track and Field team, these records come to life when they have been broken. During the team's meeting following a meet when a record is broken, Head Coach Jason Fast holds a record breaking ceremony. At this time, the athlete is given a physical record, the kind that plays music, with the event and mark that they beat written on it. After a slow buildup by the team, the athlete throws the record against a surface breaking it into pieces. This becomes a physical representation of the athletic feat accomplished over the last weekend.
For Coach Fast, "Breaking records is a fun way to celebrate a great moment in team history. I feel like we've been a little spoiled with 10 school records being broken this year, but each one is still a huge moment for the program. The record breaking is symbolic, but at the same time the whole team, who helped play a role in getting them there, gets to be a part of it." Coach Fast adds, "I also hope it's something that helps to inspire our team to one day want to do the same."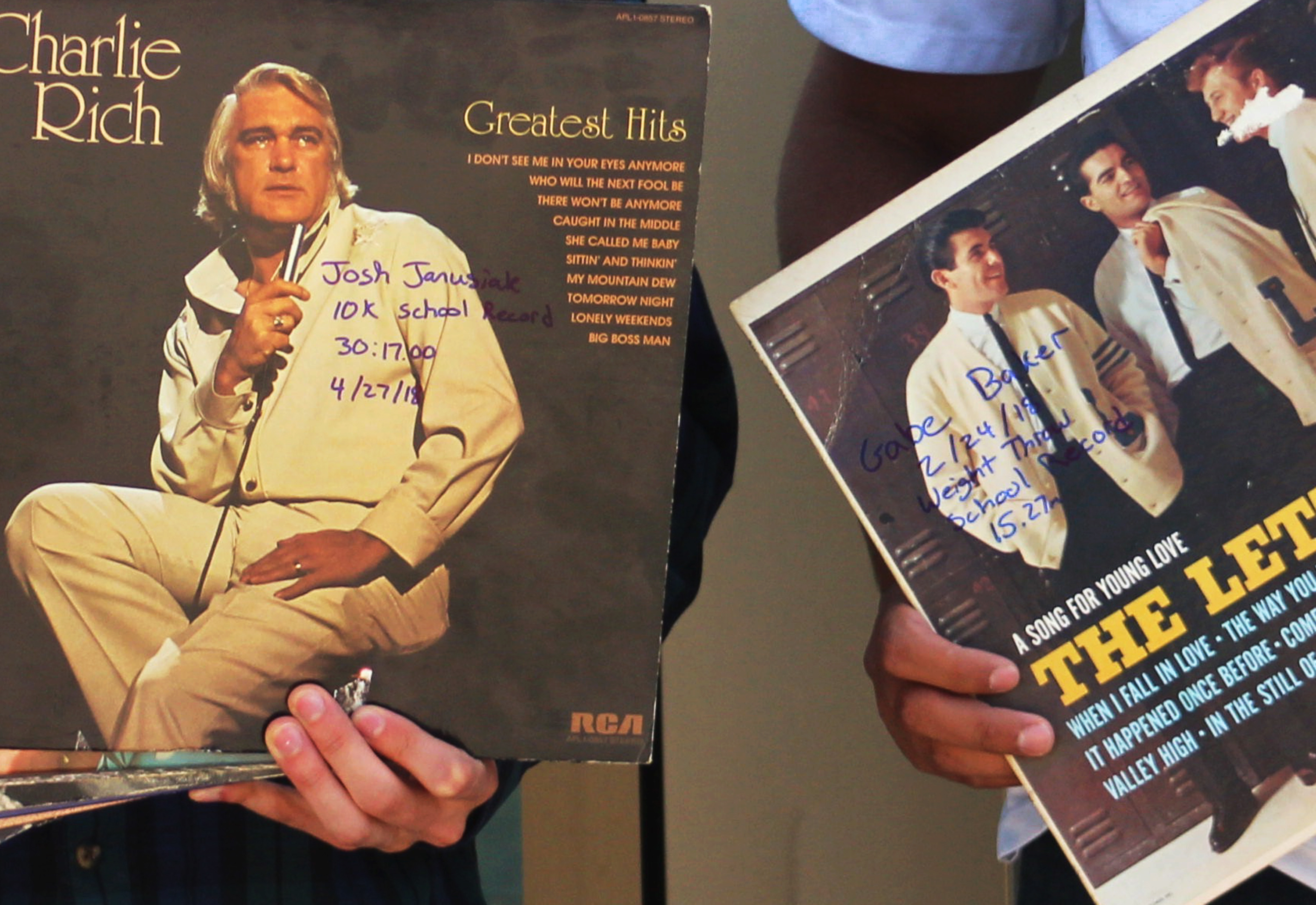 With all the school record breaking that has been going on over the course of the last season, these ceremonies can get a little tedious, yet each one represents something different for the athlete that broke the record. These performances do not happen overnight but represent years of hard work and dedication to bettering their craft. Beyond just the verbal recognition, breaking a record allows the athlete to carry a memento of their performance: the broken vinyl record.
For sophomore Gabriel Baker, who broke the men's weight throw record during the indoor track season this year, the record-breaking ceremony really helped him understand what it meant to break the record. Baker said, "Personally, I did not truly understand the significance of my achievement until I broke the physical record. Our tradition allows us as athletes to declare a new era in Lawrence Athletics. There is an unparalleled sensation of seeing the previous record mark and year on the physical record and, in my case, smashing it into dust. After the record breaking ceremony, I was left with the desire to pursue breaking my own record as well as breaking other records in different throwing events. The tradition enriches our track and field program. While those who earned the honor of breaking a school record feel valued, the tradition inspires teammates, especially underclassmen, to strive for the standard of excellence that Lawrence Athletics aims to model."