Some of the organizers of the event: junior Rebecca Bernheimer, freshman Spencer Washington, sophomore Taylor Blackson, freshman Hezekíah Ortiz, sophomore Jessenia Zelaya and sophomore Susie Francy.
Photo by Angela Caraballoa.
On Friday, May 11, Colores held Lawrence's first ever Pride Prom, a celebration for LGBTQ students of color and their allies.
"I think there is a big need for expression of pride at Lawrence because, at the moment, there hasn't really been any spaces, besides Colores, for LGBTQ students," said sophomore Jessenia Zelaya, cofounder of Colores. "I think that the LGBTQ-identifying students here really wanted something to celebrate, something to be a part of at the end of this year."
Zelaya described how the Colores board worked together to create an event that would be something special and have meaning for Lawrence's LGBTQ community.
"We put a lot of work into it and we did not want it to be just another generic pride event. Like this was specifically about us and we made sure we included a history of Colores itself, but also a history of LGBTQ people and people of color," said Zelaya. "We included a lot of figures on the wall and I saw a lot of people checking out the posters and the materials we had posted. It was both educational and fun."
Colores not only took the opportunity to create a fun and welcoming space for Lawrence's LGBTQ community, but designed the event in a way that advocated for the values that Colores believes in. One of the ways Colores achieved this was through fundraising during the dance for the Latina Trans Organization of Texas. Zelaya explained that this specific organization is currently experiencing a great deal of hardship due to the aftermath of Hurricane Harvey and other struggles. Recently the Latina Trans Organization has not been able to raise enough money to pay their rent, and as a result they are at risk of losing the space they have, which serves as a shelter and community center for trans people of all ethnicities in the Houston area.
Zelaya saw the value in fundraising for such an organization. "I saw that a lot of people were donating, but really not enough to cover the rent," Zelaya said. "I thought that, because we are an organization centered around LGBTQ people of color, what better organization to support than them, as they are in clear need and have clearly done a lot of meaningful work in the Houston area."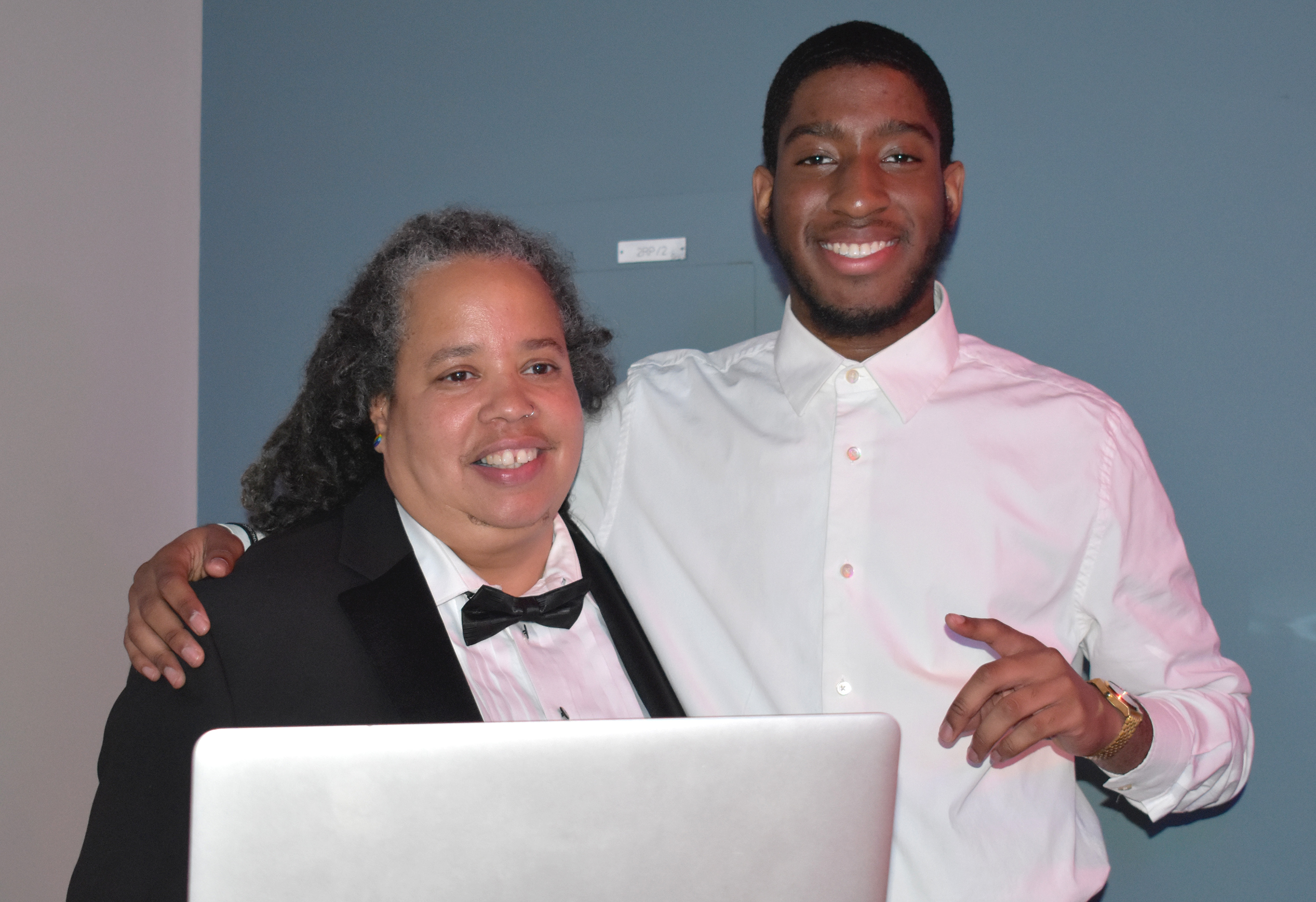 Jill Beck Director of Film Studies Amy Ongiri and sophomore DeAndre King were in charge of music for the event.
Photo by Spencer Washington.
Zelaya reported that the donation collection at prom resulted in raising a lot of funds and added meaningfulness to the prom itself. "It was cool because we wanted to make sure that our issues and our core values were represented, and so we wanted people to have fun but also know that they could participate in something bigger," said Zelaya.
The best part of Pride Prom was the sense of community and welcoming. "It was nice to see people who I've seen around campus, who I never really interacted with but all came together in a really nice way," said Zelaya. "It was all very respectful and fun, and I think people really just needed the space to dance and sing and just be themselves, in a school that doesn't often let people be themselves."
The feeling of just being able to be oneself struck home for many of the promgoers.
"Pride prom to me means being able to dress however I want, act however I want in a supportive space – in a space where you won't be judged by what you wear or who you are," said sophomore Susie Francy, Colores' ally-ship coordinator.
Zelaya gave suggestions on how Lawrence students can support people of Colores and the general LGBTQ community to make Lawrence a truly inclusive environment.
"I think that just coming to our publicized events is a great way to get to know us, like Pride Prom was an event that was specifically open to anybody," Zelaya said, "so when we open up to others, we hope that those people come in and are able to add to our space and learn from us, and we can learn from them."
Zelaya also added that another way to support the Colores community is to attend their meetings every Monday night at 7 p.m. in Memorial Hall 114. They only ask allies to come with an open mind and a willingness to work with their ally coordinator whenever they have any questions of challenges.