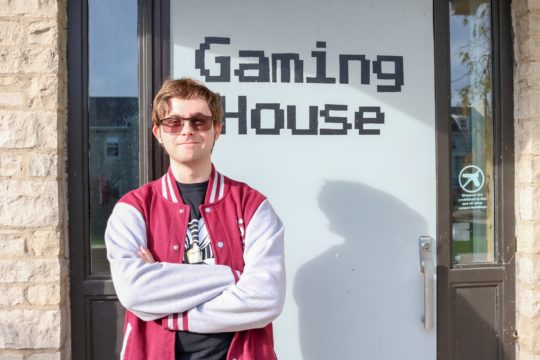 Games have been an important part of human history. From ancient to modern times, games have evolved to reflect the values, culture and lives of the people who created and played them. For me, games have been a way to learn, explore and create things in a way I was not able to with other forms of media. Because of this, I decided to ask other students about the games that have been impactful on their lives as a way of encouraging others to engage with this media.
As autumn slowly fades away and winter takes its place, now is the perfect time to sit down, curl up with a nice warm beverage by the fireplace and play a several-hour-long RPG. That's how senior Cole Stofflet would like to enjoy some of the long cold days to come.
Stofflet is a linguistics major with a focus in phonetics. He has been a longtime member of both the student and community Gamelans, traditional Indonesian percussion ensembles, for which he feels fortunate to have had the opportunity to learn and play in. He is also a member of Hillel, our university's Jewish life organization.
Whether it be a board or video game, Stofflet has a love for RPGs, which stands for role-playing games. Role-playing games come in all sorts of shapes and sizes, from small to large, but most take several hours to complete as the player fully immerses themselves inside of the world of the game.
"I would probably say the one that has had the biggest impact on me was the 'Pokémon Mystery Dungeon: Red Rescue Team,'" Stofflet said. "That was one of the first games I ever owned." This RPG really struck Stofflet, as it was his introduction to the world of videogames. For him, this was a game to get excited about beyond the family board games like "Chutes and Ladders" or "Candyland." This game opened the door to RPGs for Stofflet which allowed for his interest in the genre to take shape.
In "Red Rescue Team," you get to play as a Pokémon as you go around solving puzzles and fighting your way through dungeons and earning rewards. "This game starts with a vibe check, or an aura check," Stofflet said. "Basically, it was like 'if you have this aura, you are clearly best suited to be this Pokémon. You were human, but you wake up in the Pokémon world as whatever Pokémonyou pick." He continued, "You then go on rescuing other Pokémon as well as doing favors for other people." He admitted with a small grin and a chuckle, "I had wanted to be a Pokémon when I was growing up, and this game helps immerse me in that experience." He didn't think others shared that sentiment, but I assured him that when I was growing up, I wanted to be Vaporeon.
Stofflet described himself as a more relaxed gamer who plays time-to-time, saying, "As time has gone on, even though RPGs have not been central to my life…they are some of my favorite kinds of games where you get to decide who you want to be as a player in this world."
I asked him if he would consider going back and playing this game today or recommend it to others. In response, he said, "Today, when I do play games, I enjoy games more like 'Diplomacy,' the long board games RPGs." He continued, "That's to say I do not like video games. I do enjoy them, but I like board games more at the moment."
"Diplomacy" is a grand strategy RPG where you and other players take on the role of leading an empire around during the Great War. Some game sessions can go on for days with a group getting together for hours on end to play. "A lot of these games are wonderful games, but it all depends on what you are into," Stofflet said. "'Diplomacy' is one of my favorite games right now, but it takes a very specific person, someone who is willing to play a several hour-long game about politics and military strategy." He continued, "The same goes for games like 'Red Rescue Team;' you don't have to necessarily be interested in the main Pokémon series, but you do have to like the idea of inserting yourself into the world. You get to decide who you are as the player, so the world means everything in playing RPGs."