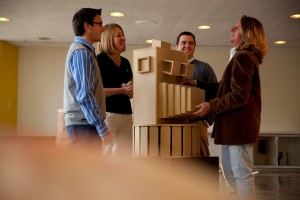 Assistant Dean of Students for Campus Life Curt Lauderdale '01 was born and raised on a dairy farm in Elkhorn, Wisc.—for those unacquainted, Elkhorn is a town of approximately 10,000 located in the Southeast corner of the state. Together, the family ran the farm since 1908: Lauderdale's aunt, uncle and cousins lived across the road, and his grandparents lived next door. The farm is still a working dairy farm till this day.
However, Lauderdale's interests proved quite disparate from the family tradition: His ambitions musically soared. "I started as a voice major—I wanted to be a piano teacher, but didn't have enough pieces prepared for the audition, " Lauderdale confessed. But he had voice pieces prepared for an earlier voice competition, and thought he'd just switch instruments.
Lauderdale was accepted, and subsequently placed in Associate Professor of Music and Teacher of Voice Karen Leigh-Post's studio. Unfortunately, Lauderdale found he was not satisfied with Conservatory life. "I knew pretty quickly I was not meant to be in the Conservatory; I was not prepared, talented or confident enough," Lauderdale self-deprecated.
Despite "sneaking by" and passing his freshman jury, Lauderdale chose to switch to a government major and history minor during the following fall term. Happily, this experience did not discourage Lauderdale's passion for music: He remained in choir for three years, and to this day can be seen creeping—or perhaps politely listening—in the back of choir concerts.
Already during his career as a Lawrentian, Lauderdale began to explore his passion for Campus Life. After a hard-fought interview process, Lauderdale became a Residence Life Advisor as a sophomore. During his junior year, Lauderdale studied abroad at the London Centre; he resumed his RLA position during his senior year.
By this time, he knew he wanted to work in student affairs: "I was not necessarily sold on here, so I completed a full job search, but many opportunities were here [at Lawrence]." Lauderdale chose to  work as a Residence Hall Director at Lawrence, and then attended grad school at George Washington University—right across from the White House. He received a degree in higher education administration, and then returned to work at Lawrence.
Now, enamored reader, you may be wondering, 'What does Curt do when not on duty?' He revealed, "I do a couple of things—most of which are pretty not exciting, like laundry." In addition to his delight in washing clothes, Lauderdale enjoys reading—most recently Candice Millard's "The River of Doubt: Theodore Roosevelt's Darkest Journey"—and volunteers a few times a week with the program A Better Chance. "This national minority scholarship program works with high school students; the Appleton chapter is male, so five high school boys are staying at ABC house, they attend public schools here in town. They are here to get them into a more successful academic setting."
While Lauderdale seems wholly committed to the student affairs field—and has proved to be a tremendous asset to the Lawrence community at large—he did disclose that he has a few other career paths he has been considering of late: stand-up Comedian—"Because I think I'm funny even though no one else does"—or treasure hunter—"Robert ballard doesn't need all the glory on his own." Whatever his ultimate career choice, The Lawrentian wishes him luck.