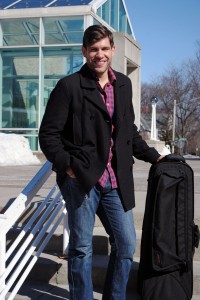 Some say that the musician speaks through their instrument.  If that is the case, then Chris Misch-Bloxdorf, a senior trombone performance major with a jazz emphasis, has a lot to say on his senior recital.
Only ten minutes of Bloxdorf's recital will contain classical repertoire.  Interestingly enough, neither of the pieces were written for trombone. The first piece, American composer Robert Boury's "Ballade," was originally written for cello.
This will be followed by minimalist composer Nico Muhly's composition, "Drones and Viola #1 Material in D."  This piece was originally written for only piano and viola, but Bloxdorf has arranged it for brass quintet and viola.  The piece is free-flowing and meditative, also very difficult to rehearse.  "[The group] has been doing breathing exercises," explains Bloxdorf.  "Breathing together is achieving the highest level of chamber musicality.  It is feeling rather than counting."
The rest of the program will consist of jazz standards and a handful of Bloxdorf's original compositions.  But here is the kicker:  no intermission!  Bloxdorf aims to have all equipment for all the ensembles onstage at the beginning of the performance.  "I don't care if it looks cluttered," he comments.  "I'm more interested in musical continuity than onstage aesthetic."
Frank Churchill's classic "Someday My Prince Will Come" will be performed in a standard quartet setting. "Big Friend, Little Friend," a new contemporary jazz group on campus, will perform Bloxdorf's "Welcome to the Tundra," a folky sounding number inspired by Happy Apple.
Following that, Bloxdorf will perform a trombone and guitar duo of Herbie Hancock's "Dolphin Dance" with Max Bowen.  This pairing of instruments is unusual, but Bloxdorf wanted to go head-to-head with Bowen because "he brings out interesting sounds with his comping that inspires a new approach to the tune."
Versatility in Bloxdorf's composition will become evermore apparent once "Prince Polar Bear goes to War with France," a Snarky Puppy-influenced groove piece written for a larger ensemble, is performed.  The last piece on the recital, well, that's a secret.
With only a few weeks before his recital, Bloxdorf is just starting to rehearse with his ensembles.  He believes that two weeks is plenty of time to prepare the pieces, and he wanted avoid allotting too much time to rehearsing.  The recital should be the "peak of performance" for these pieces, and without too much rehearsal, "spontaneity" in the interaction between players is more likely.
Further, Bloxdorf is not fretting about limited rehearsal time because he is able to put complete trust in the musicians with whom he has decided to work.  He had a reason for picking specific players on particular pieces, based on his personal experience working with them.  Taking into account their chops, commitment and rehearsal attitudes, Bloxdorf is able to achieve optimal efficiency in rehearsals.
As one will see in this recital, Bloxdorf has composed or arranged most of the prepared material.  He has a slightly different approach to each group.  With "Big Friend, Little Friend," Bloxdorf knew the feeling and emotion he wanted to capture from a Happy Apple song, but he brought a skeletal chart in to the group.  This technique "allows each member to add their unique sound into the piece."  For "Prince Polar Bear," Bloxdorf borrowed structures from Snarky Puppy to create a similar effect.  The piece is written out for the larger ensemble.
Says Bloxdorf, "I've tried to develop a program of 'accessible complication.'  That's the music I like, where musicians and non-muisicans alike can appreciate the music."
Bloxdorf shows exceeding promise for the future.  He has been accepted into NYU's program, and he will be studying with the great Alan Ferber and Elliot Mason.  His recital is at 8 p.m. on April 12 in Harper Hall.