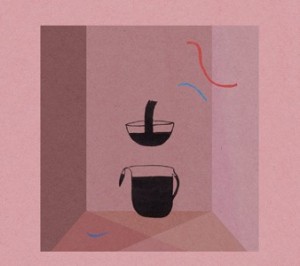 Devendra Banhart's "Mala" is the newest of his contributions to the musical genre, "New Weird America," which does indeed exist.  As a Venezualan-American musician and visual artist, Banhart has made a name for himself in this more unique genre as well as in alternative folk.  But despite these ridiculously hipster-like categories, his musical style is not as unapproachable as it sounds.  Banhart weaves melodies out of softly sung or spoken lyrics with a smooth bass line and a Spanish-sounding acoustic guitar style.  Banhart is not above using synth, but he skillfully inserts it into the music so that it absorbs into the melody instead of stunting it.  He has continued this style in his most recent album, "Mala."
The album starts with a haunting vocal line, "You believe/in visions and prayers/but you don't believe/in what's really there" in a minute-and-a-half long track called "Golden Girls."  From there it opens up into a soothing, summer-sounding guitar in "Daniel" that welcomes listeners into Banhart's very tranquil world.  Some of the tracks, such as "Mi Negrita" and "The Ballad of Keenan Milton," are reminiscent of an underlying melody you would find in a Quentin Tarantino movie.  Their tranquil, Latin American-inspired melodies invoke images of an older and more rustic world.
However, other tracks, such as "Für Hildegard von Bingen" and "Hatchet Wound," break further away from the folksy melodies and reach into the alternative and alt/pop spheres.  "Für Hildegard von Bingen" uses a soft and airy minor guitar line that can be found in many alternative hits from bands like The Shins or The Eels.  While Banhart maintains his unique muted vocal style in "Hatchet Wound," the up-tempo beat of the track combined with electric guitar gives the track a more pop-like feel.
Banhart's musical style already sets him apart from most alternative musicians, but to add to his uniqueness, he often weaves Spanish and German lyrics into his songs.  The complex layers of languages, melodies and lyrics somehow weave together within "Mala" in a way that never overpowers and often lulls listeners into a state of calm.  The only critique I would give to the album is that Banhart's experimentation with different melodic and instrumental styles can sometimes give parts of the album a choppy feel.  Some transitions, such as "Golden Girls" to "Daniel" or "Mi Negrita" to "Your Fine Petting Duck," are impressively seamless while others, such as "Won't You Come Over" to "Cristobal Risquez," seem disjointed.  Perhaps Banhart did this intentionally, but to a less alternative listener, the transition detracts from the enjoyment of both tracks.
For the skeptics, I will admit that Banhart can at times demonstrate a sound too slow and simple to appeal to the general public.  However, this is no reason to overlook him as an artist.  Many of his tracks are hidden gems, such as "Für Hildegard von Bingen," "Mi Negrita," "Daniel" and "The Ballad of Keenan Milton" which take you to a place of pure tranquility and are perfect for summer evenings.  For a taste of Banhart's style, check out his song "Carmenista," off his 2007 album "Smokey Rolls Down Thunder Canyon," as it is the perfect example of Banhart's musical genius.