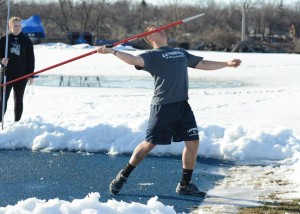 After a strenuous and challenging indoor season, the Lawrence University Men's and Women's Track teams are excited to move outdoors and compete again in the Midwest Conference. With the completion of winter sports, the Vikings are excited to welcome new members to the team and start the season looking to improve on their progress from last year.
Both teams are getting excited every day as the snow progressively melts and they begin to move practices outside of the Wellness Center. During Winter Term, both teams had to accept the difficult challenge of practicing indoors in a rather confined space. The sprinters have been using the track on the top level,  the throwers have been in the gym and the distance runners have used the pathway outside the Wellness Center that leads to Hiett Hall. Residents on that side of campus have been getting used to the sight of runners storming in both ways between the end of classes and dinner.
"Practicing indoors is not ideal," mentioned junior thrower Andy Paider. "Trying to practice in the Wellness Center is tough, but the coaches have done a good job of keeping us conditioned and focusing on perfecting our techniques. I'm definitely excited to start throwing outdoors and seeing our hard work pay off."
On the throwing side, the Vikings notably return sophomores Spencer Swick and Nick Cracker in the discus throw and shot put, as well as Paider in the hammer throw. Junior Gabor Bukszar is also coming back in the javelin. On the women's side, freshman Genna Matt had an impressive campaign this past winter and will look to continue her success this spring in the javelin and hammer throws.
When it comes to the runners, senior Sam Stevens is looking to cap off a terrific career in spectacular fashion in his final season. Additionally, freshman J.P. Ranumas, who ran well during the indoor season, is hoping to build off his success. Sophomore Anna Bolgrien and junior Anna Ratliff are also expected to lead the team. Lastly, senior high jumper Rose Tepper has endured an outstanding career and expects this spring to be no different.
In general, both teams are very young with only a handful of upperclassmen on both the men and women's sides. Paider believes that leadership and maturity are essential to success this year. He says, "We are a young team and we need to work hard together in order to achieve our goals. All the practicing and training will ultimately lead us to improving the program and accomplishing better results in our upcoming meets."
The Vikings are scheduled to participate in eight meets this season, the most important being the Midwest Conference Championships on May 10 and 11. During the indoor season, the men and women finished eighth and ninth respectively in the Midwest Conferenc