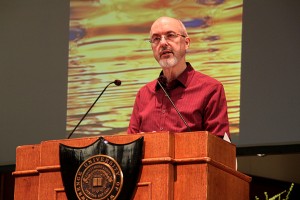 World-renowned video artist Bill Viola came to Lawrence to present his early work and to speak for the Convocation on Tuesday, April 16. In the Convocation and video screenings, Viola discussed reoccurring themes, inspirations, challenges in early video making and his creative process.
Viola's work was presented in a three-day video program in the Wriston Auditorium. These works spanned from the late '70s to late '80s, at the time of video art's blossoming. The three video screenings each fit into a theme of "vision as reception," "vision as reflection" and "vision as projection." A question-and-answer session with Bill Viola and Kira Perov, executive director of the Bill Viola studio, took place after each screening.
In his videos, Viola deals with concepts of self-knowledge, the connection of art and technology, life and death and vision and intangibility. His videos incorporate a variety of earthly elements and are known for their use of water.
In the discussions and in the convocation, Viola discussed technology as a medium of artistic expression. "Art and technology have always been with human beings since the origin of time, and right now we're in a privileged position to gather all of the incredible stuff together and go forward with it," said Viola.
According to Associate Professor of Art History Elizabeth Carlson, "Through technology, which we see as something as cold and impersonal and not human, he tries to—as he would say, and has said many times since he has been here in conversations with me—is 'reach the soul' and try to create this metaphysical experience through technology."
Viola also discussed how much of his work attempts to find meaning and essence under what is visually apparent. "What we see here on this earth, at this moment, in this physical world, is just the first layer, and there is something underneath that layer and there's something underneath that layer," said Viola.
Viola's visit to campus has been a collaboration between Carlson and Chris Zimmerman '96 since January of 2012. Zimmerman had presented an identical program of Viola's early work in Cyprus at an experimental film festival called "Images and Views of Alternative Cinema."
"I was involved in this film festival and I thought this would be cool to present Bill's work, but because it's a film festival, we can't do installations…so I was thinking, let's look at the early single channel work because they are meant to be experienced in a cinematic context," said Zimmerman.
In his discussions, Viola commented on the differences between video art and film. He described video as being more similar to sound because of its continuous quality.
Carlson commented on the blurry line that Viola creates between film and video: "I think that he's pushed that line between video, art and film…and I find that line to be really interesting. One is appropriate to be taught in art history class and one is not, and where does that go?" said Carlson.
Freshman and art history major Cooper Henkel attended the Convocation and each of the video screenings. Henkel said "[Viola's] talk acted as a definite, perhaps more human, extension of his Wriston screenings. From these experiences [I] have gleaned a small—but precious—piece of Viola's appreciation for life and all its interconnectedness."
Carlson describes Viola's newer installations as "phenomenalogic," meaning that they are a physical rather than retinal experience for the viewer. "Students at Lawrence studied Kandinsky, in fact, we're almost at the point where all of the students except for the seniors read Kandinsky. He's doing the exact same thing," said Carlson.