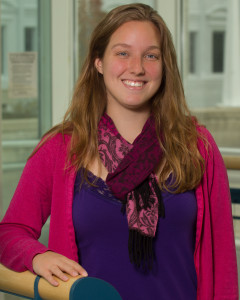 Most people in the Conservatory have taken the normal route: Enrolled as a freshman straight out of high school, then kept on that path until graduation four or fifth years later. However, there are exceptions to the rule. Senior Susan Borkowski came to Lawrence as a junior and started her 4-year program then. This extra time has given her the chance to hone her talents and find her focus.
Hailing from the Chicago suburbs, Borkowski didn't always know if she wanted to pursue a career in music. So, as a freshman, she went to UW-Madison. While at school in Madison, Borkowski realized that she was not happy being a non-music major. After a year at Madison, she decided to take a step back and take a more serious look at music schools. After a year at community college, Borkowski ended up at Lawrence, where she is about to finish up her Bachelor of Music double major in Vocal Performance and general choral music education.
Although she didn't know what she wanted to do initially going to college, Borkowki says she has "always been singing." She followed music with piano when she was five, then moved to viola, cello and violin. As for influences, Borkowski says that her choir director in high school was "very supportive of my talent, and always gave me positive feedback," while her high school English teacher "inspired me to teach and be a better person."
Borkowski says she "could not have found a better place to be" when asked about Lawrence, which she found through her private voice teacher back home. "Lawrence is filled with the best people!" She especially loves the collaboration at Lawrence, especially with her performance coming up. "My collaborating pianist is Elizabeth Vaughan, and my voice teacher is Joanne Bozeman. They are both incredible at what they do and I really could not be more fortunate to be working with such top-notch people. You asked me about people who have inspired me, and those two inspire me all the time."
After Lawrence, she's not sure if she will want to stick with vocal performance or education. "Lawrence has allowed me to not have to choose and do both at a very high level." Borkowski says she is willing to let that decision come to her in time, and to just let it unfold.
As far as genres are concerned, Borkowski has the range covered. Even just within her recital she is singing French pieces, German pieces, two English art songs, Catalan folk songs and a musical theater set. Amongst all this she loves "singing pop songs in the car" like everyone else, as well composing and writing songs on her acoustic guitar.
Borkowski is very excited for her upcoming recital because she loves how "personal" some of the songs feel, and she really wants people to see that shine through. For example, one of the German songs she sings, "Das verlassene Mägdelein," she has sung multiple times throughout her career here at Lawrence, and it has been "in her life for so long." Borkowski says there "is a lot of me in it" and that she is excited for this performance because, although she thinks it shows her technical prowess, she also thinks "it conveys a lot of emotion, which is what art is about."
You can catch Borkowski's recital Saturday, Nov. 16, at 5:00 pm in Harper Hall.