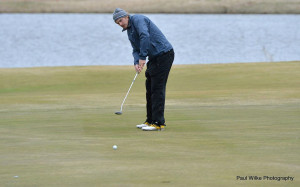 May 1-3 was the time for the golf team to shine as they spent that weekend in Rockford, Ill. competing in the Midwest Conference (MWC) Championship. The competition was held at Aldeen Golf Club on a par-72 layout.
Junior Anton Olsson scored 78 points in the opening round, which gave his team a much-needed boost for the rest of the competition. When competition on day one ended, Olsson was tied for fourth place. Along with that, Freshmen Nigel Schuster and Nathan Ley shot 83 and 85, respectively and Lawrence had a score of 335 entering the second round.
Olsson led the Vikings again on day two of the competition. He scored 7 over par, with a 36-hole total of 157. Heading into the last day of competition, Olsson had slid to fifth place.
During the third and final day of the championships, Lawrence shot a final round score of 333. The Vikings placed fourth overall, with a score of 1005. The Monmouth College golfers, who racked up a total score of 953, ended up winning the championship.
Olsson's outstanding performance helped lead Lawrence to fourth-place. "Olsson is our MVP this year. He performed very consistently throughout the season. Also he got 6th in the Conference Championship," said Schuster. Olsson ended his weekend of play with a 54-hole total of 237.
The top 10 golfers in the MWC Championships make up the all-conference team. So along with his outstanding performance, Olsson also earned all-conference honors.
Schuster, himself, tied for 17th place in the tournament with a score of 252. This is an especially impressive achievement when considering his freshman status.
Schuster came to Lawrence all the way from Düsseldorf, Germany. When asked to share some of his favorite highlights from the season, he replied, "My favorite memory is probably us as a teem meeting at 6 or 7 am in the morning, unbelievably tired, but then turning the weekend into some awesome rounds of golf."
"As far as the best meets this year, I would have to say that was the Midwest Conference Championship because this was the most important meet of the season. Also, we had the first warm days of the year that weekend," said Schuster.
With only three graduating seniors, next year's team will be experienced and hope take part in another successful season.