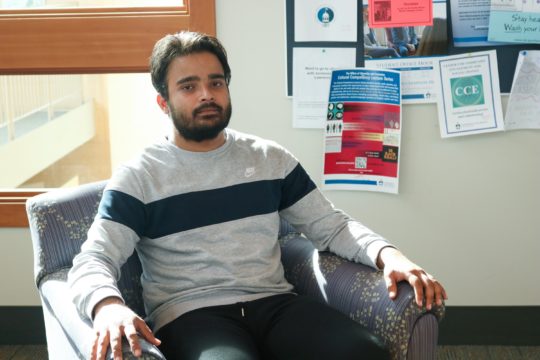 Photo by Zhixuan Lyu.
Traveling across the country on a motorbike isn't the usual response to the question: "What did you do over the summer?" However, freshman Sandesh Joshi did exactly that. In fact, he has accomplished more than the majority of new college students with the help of two gap years.
Originally from Kathmandu, Nepal, Joshi intends to major in economics and computer science with a possible minor in innovation and entrepreneurship. Before coming to Lawrence, Joshi was intending to take only one gap year. Students in Nepal who study through Local Board education don't receive their twelfth-grade transcripts until August, making it impossible to apply to colleges.
To fill the time, Joshi worked at an internship and applied to colleges. "I worked in a human rights organization known as Informal Sector Service Center…for the data analyst department," Joshi said. "I used to collect data of the people that passed away in the civil war and the amount of property that they lost."
Joshi gained workforce experience through his first gap year. His second year came as a surprise. During the interview part of the application process for his visa to the United States, Joshi was rejected on the basis of lack of funding for his studies. "Everything went well [with the interview], but finally they asked me how I was going to fund my education in the United States," Joshi said. "I said, 'Through my family funds and family savings,' and then their next question was 'What do your parents do for a living?' I said, 'Both of my parents are government employees,' and was about to say that my father is also a consultant for the tourism industry, but they did not give me a chance to do that," Joshi stated.
After the initial shock of being denied his visa, Joshi took time to get back on his feet. "[The second gap year] was a bit hard for me," he said. "I had never thought about an alternative to coming here, so I was kind of stuck for two months. I did not know what to do, and I was very much depressed," Joshi said.
Eventually, Joshi gained ground again, finding new hobbies to partake in. "Slowly, I started coming back," he said. "I joined a culinary institute and I gained training in Indian and Nepalese cuisine for three months, and after that I decided to travel around Nepal."
Despite gaining unique skills through culinary work, Joshi wanted to make a bigger impact. After applying as one of the 1,500 applicants to the World Experiences Foundation, he was one of 15 chosen. Joshi's goal through the foundation was to make a project that influenced global citizenship, his topic being one of the biggest economies in Nepal — tourism. "I wanted to travel around Nepal making a documentary about homestays and community stays in Nepal," he said. "I took 24 days. I went around the country and I stayed in most of the well-known community homestays."
Over the course of the trip, Joshi traveled from Kathmandu to Mechi, then to Mahakali, and back to Kathmandu, all on his Royal Enfield Bullet 350cc and KTM Duke 200cc motorbikes. He realized he became inspired by his travel experiences, allowing him to open his trekking guide company in Nepal.
The completely web-based company, Ember Tours and Treks, although impressive, came with a cost. "Honestly, I was looking for an easy way out because I was not sure about my visa," Joshi said. "I was constantly thinking I was dull because of the gap years I was taking, due to not getting formal education anymore. That was constantly knocking on my head."
Despite his company being successful, Joshi wanted to strive for more and was accepted to Lawrence University as a member of the Class of 2023. Now attending Lawrence, he looks back on his gap years, certain of having learned important life lessons. "It's not so much about being an adult or something like that," he said. "But, I think I am in a mature emotional space right now. I also think I've been through a lot of experiences that the domestic students here have not."
While some say that the downsides of taking a gap year outweigh the benefits, Joshi believes that a gap year has the power to make students more stable for their futures. "I think a gap year sort of sorts things out for you," he said. "Sometimes you're not sure what you want to study. You're not sure what you're going to become, and you're not sure how your emotional situation is going to be."
Now, while reflecting on his past, Joshi hopes to take his knowledge from the last two years and create lasting impacts during his four years at Lawrence. "The most important thing for me is to make good lifelong friends," he said. "That has always been my priority." Then, after a quick smile, he added, "Along with the academics, of course."