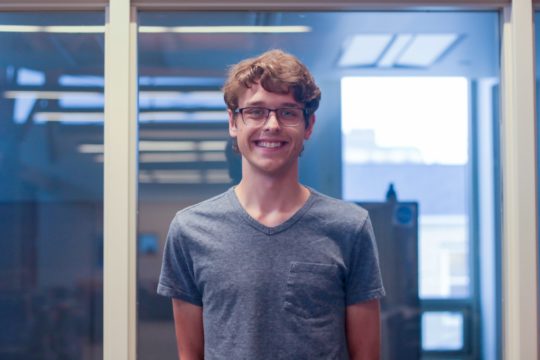 This column seeks to profile Lawrentians who have decided not to take the typical path of enrolling at college directly after highschool, instead pursuing other interests during a gap year.
Politics has become a popular career path that has caught the interest of many Lawrentians and inspired them to pursue majors in government. This popularity often comes with an emphasis on American politics, but freshman Jonathan Hogen has an eye on a different country — Germany.
After spending the last year living in the town of Neuharlingersiel, Germany, Hogen has improved not only his German, but his overall perspective of foreign politics.
"Personally, I don't think my experience with a gap year is typical," he said. "I think a lot of people do it for financial reasons." He continued, "It definitely gave me a different perspective on life, not necessarily because I was in Germany, but simply because I was outside of the school system for a year."
After applying for and receiving a year-long scholarship through the Congress-Bundestag Youth Exchange program, Hogen began his gap year with language and cultural acclimatization courses in Germany, along with the 50 other recipients of the scholarship. Afterward, he moved in with his host family in Neuharlingersiel, a city near the North Sea.
"I did another year of high school," he said. "That was super redundant, but super interesting as well." While school was a large part of his daily routine, Hogen also explored other areas of interest, including government, thanks to the scholarship and his host father. "My host father is luckily a politician," he said. "I got to do two university courses in Hannover with him where he teaches. I also got to do an internship with my German congresswomen in their capital, which is awesome."
Another aspect of the Congress-Bundestag Youth Exchange scholarship Hogen participated in was visiting the State Department in Germany. He was certain he wanted to work somewhere like that in his career, but the visit changed his thinking about his future in government.
"[Visiting] made me realize that maybe the State Department was not the only thing that I would necessarily do," he said. "My host father was definitely involved with more local politics, […] so he's super engaged with the community, which made me realize I would also love to get involved with some community and local politics, even in my four years here." In addition to experiencing the German school and political systems, Hogen partook in other activities like traveling, including a three-week trip to Berlin and other short expeditions with his host family.
"We kind of went all over the place," he said. "We ended up spending, I think, two or three weeks in the Alps, […] and then one in Italy." From an outside point of view, Hogen's gap year may have seemed to consist only of great cultural experiences. In reality, it also came with challenges.
"I think the biggest lesson I learned was how to live with a family of a different culture that I didn't know," he said. "Each family has their own culture, but there was the addition that they were German and I'm American." He continued, "There's a huge social challenge figuring out how to integrate into a group of people who are incredibly tight and have been living with each other for their entire lives.".
Although this integration was difficult at first, Hogen believes he received a valuable lesson from this part of his gap year, something he can keep with him not only during his four years at Lawrence, but throughout his life.
"I think the social challenge of being in a foreign environment is applicable everywhere," he said. "Especially at Lawrence, the diversity is high, which is excellent, but there's also a lot of times where I think that without my experience abroad it would be more challenging." To Hogen, his gap year was more than important, but he strives to mention that it is not the act of taking a gap year that makes it worthwhile, but what is done during that time.
He said, "I think if you are doing something constructive or if you're giving yourself the opportunity to view the world from a different perspective, even economically, it's important." He continued, "But, I maybe shouldn't generalize. Every gap year is different, so I think it may or may not make sense to do depending on your situation."