A member of LU-SDS passes out flyers for their cause at a mutual aid event on April 3. Photo by Sarah Elise Navy.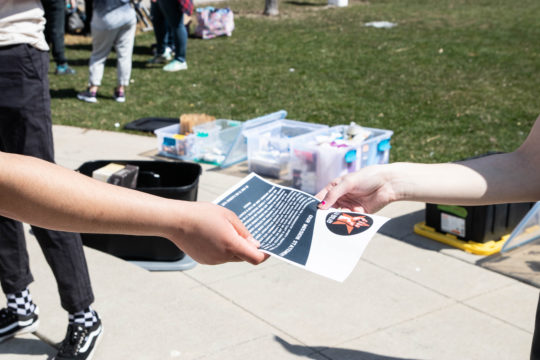 Lawrence University Students for a Democratic Society, or the LU-SDS, is a newly formed student-led organization dedicated to the support of progressive and or revolutionary change in the world. Their platform includes a call for police accountability councils, fighting for safer spaces in marginalized groups, raising the minimum wage and diversifying Lawrence University clubs, classes and activities. Founded by juniors Terrence Freeman and Earl Simons, the two-month-old group is 20 members strong and growing.
On March 8, LU-SDS joined with another Lawrence organization, the Lawrence Liberation Front, which has a mission to spread information about social and political issues, and Sunrise Appleton, a youth-led movement that works to stop climate change. Together, they put on their "Justice for George Floyd" rally. During this rally, they advocated for the implementation of Civilian Police Accountability Counsils (CPAC), denounced policing in the U.S. as inherently racist and classist and demanded that Derek Chauvin be convicted of second-degree murder. Chauvin's trial began on March 29. Freeman explained, "The call for this cop's conviction stood at the core of our work that day."
Earlier this month, on April 3, LU-SDS followed their initial event by joining forces with Food Not Bombs. This non-profit volunteer organization distributes free hot food donations to protest poverty by giving those in need a free, accessible place to enjoy a meal. At Houdini Plaza, the groups hosted a mutual aid event, a free hot feed and market, in which they distributed free clothing and food to those in need. According to Freeman, this event emphasized how communities can rely on themselves rather than wealthy donors and philanthropists for support. Signs read "Solidarity not Charity" to further this message. In addition to thesesigns, there were also signs protesting Asian hate.
The next event will be held sometime in the near future. Students will be rallying for a student pay increase at Lawrence University.
These various student-led events are meant to help serve the founders' original intent for the organization: to create a democratic organization where students can create tangible changes on and off-campus through activism. LU-SDS practices the Maoist-derived principle of the "Mass Line"; they embrace the practice of listening to issues and identifying current problems in a community and then incorporating those into their campaigns and rallies.
"Our work is relevant, as both Lawrence University and the broader Appleton community face socioeconomic issues that can be ameliorated by the mutual aid and 'bottom-up' [grassroots] organizing that LU-SDS engages in," Freeman said. "Our organization understands that we, the people, cannot solely rely on opportunistic politicians, wealthy philanthropists and the university bureaucracy to amend our problems."
Freeman hopes this organization will help provide young adults with the ability to advocate for the social causes they care about effectively. Freeman and Simons's goal for this society, in addition to promoting activism, is to inform students that there are people at our university who are working to solve relevant issues and help the community.
While learning about the meaning behind rallies and fighting for change, Freeman said students will work to teach those surrounding them and work to build solidarity with others and spread and analyze information about various problems that are often kept in the dark. As part of this, Freeman and Simons's plan to introduce students to leftist theory and literature within books and excerpts, including Black Panthers co-founder Huey P. Newton's autobiography, "Revolutionary Suicide."
Students can send an email to terrence.a.freeman@lawrence.edu or earl.g.simons@lawrence.edu to inquire about joining, or if they would like to share information about injustices, such as hate crimes or a global issue, happening on campus or in Appleton. The founders want LU-SDS to serve as a safe place where people are accepted and can speak about what they believe.
To learn more and see when the next event will be, details can be found on their Instagram, @lawrenceunisds, and their Facebook, @Lawrenceunisds.