For those of you who didn't come to see at least one of your friends perform in Friday night's choir concert on Friday, Feb. 25 at 8 pm, I'm sorry for you. You missed an amazing night of rousing performances. The concert opened with LU Vocal Spectrum (LUVS) performing the classic "Singin' in the Rain" by Nacio Herb Brown and Arthur Freed. This ensemble was newly formed to celebrate the vocal spectrum of various genres, focusing primarily on vocal jazz arrangements for eight voices. It kind of sounded like a barbershop quartet, but better and less gimmicky. Their other tune, "Once Upon a Dream" by Kirby Shaw, highlighted extended harmonies in a slower, more traditional chorale-style.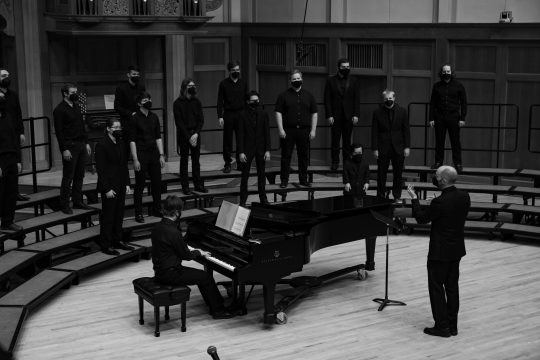 Then came the shanties! With a foot-stompin', arm-swingin', floor-shakin' sauntering entrance, Larry's Privateers led "Haul on the Bowline," a song in call-and-response form as the rest of Viking Chorale amassed behind them on stage: "Haul on the bowline, the bowline haul!" Their enthusiasm sustained through their rendition of "Haul Away, Joe," while "Fire Down Below" gave the listener a brief respite. The last shanty featured a beautiful melody in "Roll, Northumbria, Roll," with a tasteful accompaniment by Matthew DeChant on the accordion. The rest of Viking Chorale's portion was noticeably put-together and engaging. "For This Joy" featured a teaching rendition of the tune of "Praise to the Lord, the Almighty" with a re-worked text, featuring Carley Brenner on clarinet. Viking Chorale's concert portion closed with the seasonally appropriate reminder of sunshine: "On the Sunny Side of the Street," joined by pianist Ben Keating, bassist Ryan Erdmann and drummer David Pickar.
Next, Viking Bass Clef Ensemble (made up of low voices) took the stage and sang their first two numbers and performed "Cielito Lindo Huasteco" with the full instrumental compliment of the LU Mariachi Ensemble (LUMÉ) led by Jando Valdez. A brief intermission followed, and then the Concert Choir took the stage. Their second song, "Kyrie" by Heinrich Schutz, featured Willy Quijano playing the theorbo, a sort of oversized lute with additional bass strings.
A later piece, "Musiciens qui chantez à plaisir" by Hubert Walrant, was a fun work featuring choreography and posters which told the audience whimsical instructions on how to teach a choir to sing, told from the perspective of a frustrated choir director. It was both a laugh-inducing success to the audience of tired choral directors in Chicago and to the LU concertgoers, who enjoyed a hearty giggle as well. Concert Choir's closing number, "I Will Lift Up Mine Eyes," featured the compelling virtuosity of Sarah Navy's solo soprano and provided an appropriately stunning closer to their portion of the concert. 
It's worth noting here from Dr. Sieck's program that "The Lawrence Concert Choir just performed a thrilling eight-song sequence at the American Choral Directors Association [ACDA] Midwestern Region conference last Friday, Feb. 18, at the Harris Theatre in Chicago," which is an incredible honor, one also shared by Cantala, the other long-standing choir here at Lawrence. For Dr. Swan, an associate professor of music, conductor of Cantala and Co-Director of Choral Studies, the recent ACDA performance provided the opportunity to "sing for that critical audience" of choir directors, vocalists and composers from across the country. "It's really satisfying to present music at that high of a caliber to a critical audience who understands and appreciates the level of detail and excellence, and to perform it well [which both groups did]."
Cantala's portion of the concert opened with Swan's introduction on the importance of music in providing hope, which segued into "Lux Veritatis (Light of Truth)," originally commissioned for the ACDA convention in 2019 and finally premiered in February of 2022. This work featured soloists Mariah Schaumberg and Tanvi Thatai, accompanied by percussionists David Pickar and Tyler Nanstad. The next work, "The Sun Never Says" by Dan Forrest, featured soloists Elena Crino, Addison Littlefield and Tanvi Thatai and cellist Thomas Blake Logan. "Tuttarana" featured a driving rhythmic pulse and highlighted descant soloists Tanvi Thatai and Sudha Schultz. "Breath in Hope" featured beautiful harmonies, compelling chords and sweeping emotive pitch-bends. "A Bell Awakened (Variations on a Theme by Rilke)" provided a strong ending to the night's concert.
For such a jam-packed, continually impressive concert, the only way to fully enjoy those moments is live, in the audience and in the room where a choir's energy radiates even to the rafters. A close second, and electronically accessible way is to check out the concert replay by scanning the QR code to the right.