5/5
On April 10, 2020, folk singer-songwriter Laura Marling released her seventh album "Song for Our Daughter."
At the end of a long day of classes, studying and rehearsals, I often find an equilibrium in the quaint. I drink some chamomile, read a good book (currently "Chelsea Girls" by Eileen Myles), and maybe turn on some gentle music. It isn't much, truthfully — but it gives me a grounding on the tightrope that is college.
"Song for Our Daughter" perfectly fits that bill: it's a meditative, tea-drinking and book-reading record. Across only 37 minutes, Marling gives us compelling stories of one-night stands ("Held Down"), clandestine endings ("The End of the Affair") and love lost to time and distance ("Hope We Meet Again").
These three tracks epitomize what makes "Song for Our Daughter" such a pleasant listen musically. Marling's poetry is underscored by "Blue"-era, Joni Mitchell-styled keys and guitars. Backing vocals, string arrangements and bass are tastefully added, with the occasional organic synth chiming in.
"Held Down," which begins with a washing of reversed electric guitars, features one of the catchiest melodies. Its sun-kissed production sprawls ever so slightly beyond the organic sound featured on this record. At points, it feels like a bopping ambient track. With lyrics like "I woke up / it was four in the morning / clear as all hell that you'd already gone," it deserves at least a foot tap.
This miscommunication between Marling and her lover resolves brutally on "The End of the Affair." It opens in the stratosphere with only an airy synth to hold onto. The poignancy of the track blooms at Marling's first vocals and lyrics: "This is too much for man to hold." Truly, it is one of the most heartbreaking incantations I've listened to — it spells me to tears almost every time.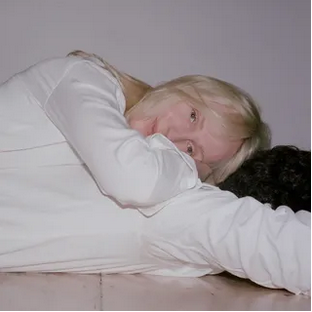 Marling reflects on this affair on the penultimate track "Hope We Meet Again." You can feel how cold this track is compared to the sizzling "Held Down": its stark guitars, strings and rimshots weep like a midwinter's curse. A telling character portrait is painted here: "Left my heart with a man in those eastern woods / He is people shy, but his words are good."  
At the core of these seemingly unrelated narratives, aside from incredible vocals and song craft, lies the idea of fiction. While her fiction may draw on the truth, it often can ring truer than reality itself.
This ties into the title track of the album, aptly named "Song for Our Daughter." Although Marling doesn't have a daughter herself, she explores the idea of raising one in the modern world: "All of the bullshit that she might be told." In a sense, these lyrics are also reminders of the inner child Marling still is.
One of my favorite lines reads "Innocence gone but it's not forgotten / You'll get your way through it somehow." Fragments of past innocence, carried into the present by this personification of a daughter figure, can help guide the way through the present maturity life requires.
Take the track "Fortune," for example: While the pennies the mother has saved for "running away" may never be spent, their wistful pathos stays. These dreams stay with Marling as the song sees her perspective change. Even though the ending suppresses the pain that paved the way to now, she can keep her dreams for escape.
The closer, "For You," is brilliant in its bittersweetness. Despite the harsh realities Marling paradoxically faces in her fiction, she is thankful and still holds love for what is gone. An almost childish electric guitar solo scores the backend, as a reminder that innocence holds as much value as maturity. The humming vocals are also a lovely note to finish on: "I keep a picture of you / Just to keep you safe."
I think the silence after this record finishes is incredibly powerful. It gives you a moment to think, sip your tea and breathe. I'd reread a passage or two (realistically, play "Held Down" a couple more times), and then finally close the book of "Song for Our Daughter." In my eyes, that's what makes this record incredible.