5/5 *****
Infamous singer/songwriter Joni Mitchell released her eighth album, "Hejira," on Nov. 22, 1976. Written over the course of several months of volatile travel, the record meanders between shades of folk and jazz fusion. Jaco Pastorius's fretless bass notably underscores several of the tracks.
Mitchell's career until this point had been primarily marked by her infectious folk-pop blend which proved to be commercially successful. "Court and Spark," "Clouds" and "Blue" still remain cult classics of the genre to this day, notably the latter. Many consider "Blue" — a brief yet romantic portrait of Mitchell in her newfound fame — her best work.
However, her turn into more experimental genres on "The Hissing of Summer Lawns" seemed unprecedented for a star of her caliber. She could have easily kept to the same methods of her earlier works; those proved to bode well with critics and the public alike. Yet Mitchell above all values her artistry, untethered to any one genre or label, embracing the freedom in songwriting.
This grasp of her individuality — along with traveling and touring — is what lead Mitchell to pen "Hejira." On the opener "Coyote," she vividly paints several of the images explored on the record: stretches of highways, plains and deserts, shady figures and clandestine lovers. "No regrets, coyote," she utters over a dense but pastoral arrangement of guitar and bass.
There are no regrets here, truly. What defines "Hejira" is its willingness to meander, to explore, to sprawl. "Coyote" and many other tracks undulate between stretches of jittering and jazzy instrumentals and confessional poetry, no longer bound to conventional song structures.
Mitchell likens this freedom to past figures who similarly traveled against all odds. On "Amelia," addressing the pilot Amelia Earhart, she introspects on romance, investigates her own womanhood, and questions her anxieties: "Maybe I've never really loved." This track sees one of the most bare instrumentals on the record, featuring only Mitchell's guitar and some added bass work to hone in on their respective solitudes.
If "Amelia" represents Mitchell's sole melancholia, "Furry Sings the Blues" displays a communal mourning. One of Mitchell's earliest instances of fame came from "Big Yellow Taxi," a satirical yet ecofeminist take on commodification from a bird's-eye view. "Furry" on the other hand grounds these understandings to a single street, with closing shops and derelict memories. At the hands of urbanization, Beale Street is closing down; the character of Furry, one of the few who can recall the street's heyday, sings fondly of these years gone by.
This storytelling is another key component of what makes "Hejira" a marvel. Some of Mitchell's most poignant lyrics come while exploring others' psyches and settings. On "Furry":"Pawn shops glitter like gold tooth caps," she describes, "In the grey decay / They chew the last few dollars off / Old Beale Street's carcass."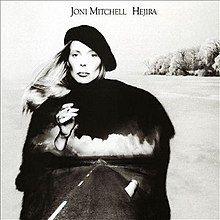 Heartbreak continues on "A Strange Boy," which proves to be a vital turning point for the album. Again, she portrays a character: this time of an immature young man feeding off her loneliness. They turn a blind eye to each other's faults in turn for intimacy in the desolation of travel. Her vocal performance is especially standout here, harnessing her newfound, alto richness. 
This is the first time the listener taps into Mitchell's loneliness directly, which transitions into the emotional apex of the record — "Hejira." As a title track, it does more than summarize the melancholia displayed across these nine songs: it brutally basks in that feeling, going to great lengths to convey Mitchell's misery.
"Hejira" is more than a lamentation; rather, it's an honest reflection on every choice that has lead Mitchell to travel to where she is now. Inhabiting these transitive cafes and seedy motels lies is a discovery of who she is at her core: "A defector from the petty wars / That shell shocked love away." Heartbreaking indeed.
With her heart uncovered, she turns back to the rolling countrysides and addresses an old hometown friend on "Song for Sharon." Across nine minutes, the longest song on the album, Mitchell ruminates on her womanhood with a chorus of backing vocals imagining what Sharon's life is like compared to her's. While Mitchell leaves sketchy men at North Dakota crossroads and gets tempted by Long Island psychics, Sharon gets married, has kids, and stays at home.
"Black Crow" plays as a pick-me-up after the devastating previous tracks. Mitchell is desperate here, almost howling over swarms of percussive guitars and luminous electric keys. "How am I ever going to know my home / When I see it again" she beckons.
In the haze of constant motion, Mitchell has lost her grounding. Finding bodies to cling onto — what she questions as "love" — helps her to maintain some footing. However, when she finally comes to a standstill in a motel room, she fully understands the lengths of her loneliness.
"Blue Motel Room" sonically reads as a jazz standard and is the most earnest track on the album. Halfway across the country, Mitchell questions a lover at home: "Will you still love me / When I get back to town?" Of course, she knows that after traveling for so long, the possibility of regaining that connection is next to none.
Instead, she finds solace in one of the few constants she has held: travel itself. On the closer "Refuge of the Roads," Mitchell finds some comfort in her misery as explored on other tracks, accepting her windswept fate to always remain in motion. The song feels like the earth itself, rotating on its axis, indifferent to any one choice, and turning incessantly: the same takeaways Mitchell has by the end of "Hejira."
Following this album, Mitchell continued to explore shades of jazz fusion on several other records ("Don Juan's Reckless Daughter," "Mingus"), letting go of her commercial appeal in turn for artistry. Yet "Hejira" remains the most potent and staying work as its honesty and ingenuity continues to touch listeners to this day. No regrets, coyote.