On Saturday, Sept. 16, Appleton Students for a Democratic Society (SDS), in collaboration with Hate Free Outagamie (HFO), hosted the People's Town Hall at the Fox Valley Unitarian Universalist Fellowship (FVUUF). The event was led by the Reverend Hannah Roberts Villnave of the FVUUF. Attendees included District 2 Outagamie County Supervisor Nadine Miller, who represents Lawrence, FVUUF members, Lawrence students and local social activists such as Penny Robinson from ESTHER Fox Cities and Ronna Jean Swift from the League of Women Voters.
The first topic that came up was issues of safety, especially for marginalized communities. Students present brought up racist, homophobic and transphobic harassment on College Avenue. Older community members at the event expressed embarrassment that this bigotry is present in their community. Cindy Carter, one of the attendants, said that it is the job of local politicians to keep all members of the community safe. Robinson added that, while Carter's comments are true, it's also the community's job to elect better people to local office.
Hate Free Outagamie organized in response to transphobic comments from District 14 Outagamie County Supervisor Timothy Hermes, who claimed on May 9, 2023 that men were "pretending to be women," in order to enter women's bathrooms and locker rooms and prey on young girls and that it was "disgusting." On June 6, 2023, the Outagamie County Board of Supervisors voted to censure Hermes but could not strip him of his committee assignments.
Miller, who voted for the censure motion, stated that the best way to get Hermes off of his committees would be to defeat him. Although the area he represents, Little Chute, is more conservative than Outagamie County as a whole, Miller confirmed that there is talk of running a challenger in the April 2024 election.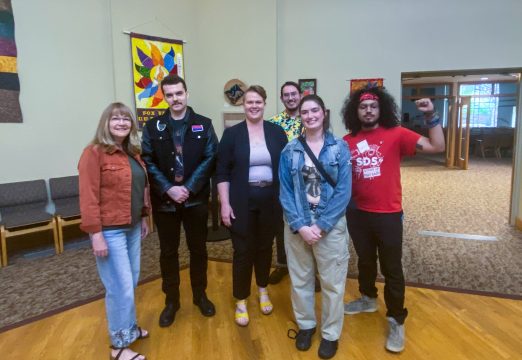 Junior Audari Tamayo, Head of Delegation of SDS, believes that the only reason Hermes was censured was because of the pressure applied by activists, and said that local governments need to listen to all of their constituents.
Jessica Nemchek, an organizer with Wisconsin Conservation Voters, talked about wanting a way to meet other people without relying on Facebook and the internet. Participants expressed a desire for a more car-optional Appleton, with more public meeting spaces, better bike and pedestrian infrastructure and more robust public transit. Along with a more urbanist city, participants also asked for more affordable housing, community control of the police, affordable childcare and more in-depth reporting from local news outlets. Someone mentioned that local newspapers used to send reporters to every government meeting, which doesn't happen anymore.
Miller spoke about behavioral health officers embedded into the Appleton Police Department (APD), who make sure that people are seen all the way through the criminal justice and rehabilitation system and ensure the systems are interconnected. According to Miller, she did not want the behavioral health employee to be a sworn APD officer, but the only way to get it past the county board was to have them be sworn. Currently there is one officer, but Miller and her like-minded colleagues are hoping to expand the program.
Participants also discussed Appleton's upsides. One person said that music is the best aspect of the community and offered the example of the Mile of Music festival. Other participants mentioned Appleton's parks as well as Lawrence University.
"A big take away from this type of meeting is that we need to break the divide between Lawrence and everyone else in Appleton," said Hate Free Outagamie organizer, Logan Robison. "We're all in the same community together. We have these different perspectives, but we all know there is something that needs to be changed."
Miller feels that it is important that local elected officials such as herself attend events like these, because she wants to hear what people's concerns are. She said that she's always been a supporter of the LGBTQ+ community and was surprised that so many of her colleagues were as well. Miller added that issues of discrimination, such as Hermes's comments and subsequent demonstrations, are not simply disagreements on policy.
"It's not just a disagreement," Miller said. "If my identity were being questioned or attacked, I would be very upset too … It's not just another protest, it's their personhood."