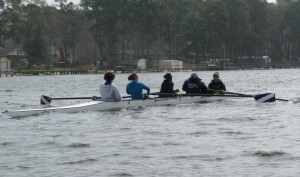 While many spring-breakers descended upon southeastern Mexico for nights of debauchery, nakedness and regret, one campus group made its way to our very own southeastern state of South Carolina to recharge from a stressful winter term and prepare for the upcoming spring season.
Lawrence's rowing team went to Camp Bob Cooper on Lake Marion this past spring break to train for their upcoming spring season. Funded both by LUCC and annual dues, the goal of the trip was simply to spend as much time on the water as possible. But the team didn't spend all its time simply rowing for hours on end. Team bonding activities were an important aspect of the trip and appeared to be extremely salient in the eyes of the rowers.
"Every year we split into four groups—varsity women, varsity men, novice women, novice men—and perform songs and dances for the team," senior Allie Thome explained.
As a long-time veteran of the team, Thome could hardly contain her excitement about the trip. Similarly, newer crew member sophomore Jazmin Astwood enthused about  a volleyball game against another rowing team that occurred on the trip, saying, "We failed miserably, but it was more fun than anything to have the entire team come out to support us and cheer us on."
Both Thome and Astwood cited activities such as tie-dying, cuddling and movie watching as other activities that bonded the team. In a sport so dependent on the synchronized movements of its team members, it's clear that the crew's time was well spent on the beautiful shores of Lake Marion, building upon not only their rowing skills, but also the important bonds needed to be an effective and cohesive unit.