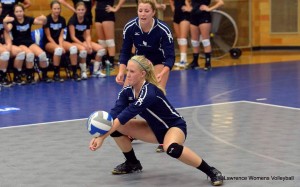 Senior Kathleen Rowland beat the Vikings' school record for digs on Wednesday, Oct. 25 against Carroll University. The previous record was 1,908 and Rowland's current record stands at 1,922. This season, she's already recorded 285 digs.
1) How did it feel to break the record for digs that was set over ten years ago?
Honestly, it did not feel very special. I was just ready to play the next point. I think everyone was a lot more excited than I was.
2) What has been your proudest moment playing volleyball, and why?
My proudest moment was probably when my club team got third place at AAU's. We got a pretty nifty medal.
3) What is your favorite part of a game, and why?
I really love going after balls and playing against teams with excellent hitters. It is a fun challenge to not let anything hit the floor.
4) What are you trying to accomplish with the rest of the season?
My goals for the rest of this season are to work hard, enjoy my teammates and end my collegiate athlete experience with no regrets.
5)  If you had any super power, what would it be, and why?
Teleportation, because I could be anywhere with the snap of my fingers!