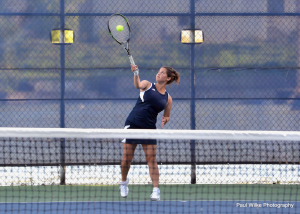 Saturday, September 27, was a busy day for the women's tennis team as they traveled to Green Bay, WI to take on St. Norbert College in a conference match up, followed by a non-conference game against UW-Oshkosh.
They knew their first match up would be a tough one, since St. Norbert has remained unbeaten in Midwest Conference play. St. Norberts looked to continue their winning streak against Vikings at the Western Racquet Club.
Senior and team captain Hannah Geoffrey played against Elizabeth Manlick of St. Norbert in close singles competition. Despite her best efforts, Geoffrey was unable to stop Manlick and lost the two sets 6-3 and 6-4. Katie Frankel, a sophomore from Deerfield Illinois, played an outstanding match against the tough competitor Nancy Chybowski. Frankel walked away with two winning sets, scoring 7-6 in both. The Green Knights won five of six single matches overall to help them earn the victory.
In doubles play, the pair of Tess Vogel and Melissa Heeren led the way for the Vikings. They were able to pick up Lawrence's only victory in doubles, winning 9-8 against their opponent. Overall, St. Norbert continued their winning streak and walked away with a 7-2 victory over the Vikings. This left the Vikings with a record of 3-2 for Midwest Conference play.
The next opponent for the Vikings that day was UW-Oshkosh. Though this would be a non-conference match up, the Vikings still had hopes of walking away with a victory. The Titans came ready to play however. Oshkosh had a clean sweep in singles play, defeating all six Lawrence players that day.
Doubles competition went a bit better for the Vikes, thanks to the dynamo pair of Vogel and Heeren again. They gave Lawrence their only win against Oshkosh that day, defeating Hannah Bostwick and Maggie Bolton with a score of 8-6. Senior singles player Allison Juda commented, "Despite the loss, we fought really hard, especially the third doubles [Vogel and Heeren], who played exceptionally well against both [St.] Norbert and Oshkosh".
The Titans went on to defeat the Vikings 8-1 Saturday, leaving Lawrence to head home 0-2.  Next up for the Vikings will be another busy weekend as they play two conference matches. Lawrence will host Cornell College on Saturday, October 4, at 9:00 a.m., followed by Grinnell College on October 5 at 10:00 a.m.