Lawrence University's own educational charity, KidsGive, took its first ever trip to the East Coast this past reading period. The group went to Philadelphia and New York City and collaborated with a Philadelphia-based nonprofit, HealthyNewsWorks,  to film a series of health-related videos for use in the club's current and future volunteering efforts.
According to junior and KidsGive Finance Chair Alex Kurki, KidsGive is an international group headquartered here in Appleton. The group's mission is "to educate students in the U.S. about African life and cultures and promote informed giving." They also strive to "provide children in Sierra Leone with the opportunity to learn and become the next great leaders of their generation."
Edwin & Ruth West Professor of Economics and Social Science and Professor of Government Claudena Skran founded the organization after being inspired by multiple trips to Western Africa. Traditionally, the club travels to Sierra Leone every spring break. However, the 2014 Ebola outbreaks interrupted the planned 2015 trip, so Skran instead arranged a field experience in Jamaica. Now, KidsGive maintains volunteering connections both in Jamaica and Sierra Leone, and plans to travel to West Africa over spring break.
In preparation for this year's big trip, seven students from KidsGive spent reading period on the East Coast, shooting two short films in the form of newscasts. KidsGive worked on the project with HealthyNewsWorks, a nonprofit focused on promoting journalism as a skill and a career path for underprivileged children.
Marian Uhlman, Director of HealthyNewsWorks, was excited about the prospect of cooperation. "This has been a while in the planning … the idea of having our kids work with college students to make a video that will be shown in Sierra Leone was wonderful, because it can teach our students about the scope of the medium," said Uhlman.
As part of the weekend, Philadelphia elementary children from St. Veronica's and St. Martin de Porres' schools got up early to film videos with health-related scripts—one about Ebola, and the other stressing the importance of hygiene and hand-washing. KidsGive plans to show these videos as educational materials during their trip to Sierra Leone later this year.
Kurki expressed enthusiasm at the idea: "I think it's important. We are constructing a well at Conforti School with funding from local and international rotary clubs, and this video will help kids use it effectively."
Skran also took the opportunity to raise awareness about Sierra Leone and about the need for organizations like KidsGive. On Tuesday, Feb. 9, she held a free talk titled "Ebola and children: Stories of loss and resilience" at the Free Library of Philadelphia. She "shared the stories of children who lost homes, parents, and months of schooling while enduring quarantines and hospitalizations" during the pandemic. KidsGive also hosted a Lawrence alumni event and fundraiser on Saturday in New York during which Lawrentians were invited to contribute to the cause.
Overall, the weekend was a success. KidsGive and HealthyNewsWorks successfully cooperated to make two different videos to be shown in Sierra Leone and made a lasting organizational connection. "The Lawrence kids were really lovely," said Uhlman. "I would love to work with them again."
Many young Philadelphia students showed up to help and developed a real interest in the problems facing Sierra Leone and other developing countries. Uhlman concluded, "This kind of educational experience is a key ingredient in making the world better."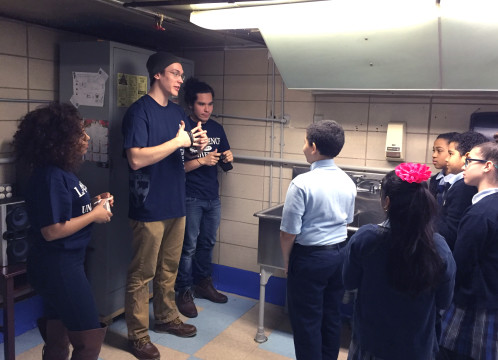 UPDATE: This article incorrectly listed the location of Skran's talk to be Healthy NewsWorks headquarters. This article has been updated to reflect the correct location, Free Library of Philadelphia. The Lawrentian regrets this error.