"The Solar-Powered Nips (#thehardeningofthenip)" struggles to find the answer to the super garuda in Trivia's final hour.
Photo by Luke Payne
"Boy, Photoshop skills are really not all you need," began junior and member of team "Homemaker, wife and mother to 3 beautiful children" Molly Froman.
Froman spent the weekend of Jan. 27–29 participating in Lawrence's 52nd Great Midwest Trivia Contest, a 50-hour long competition broadcasted on WLFM radio.
"It started just as an on-campus joke," said senior and 2017 Head Master Ridley Tankersley. "Dorm teams played. Since people have graduated and other people have gotten word about [the competition], there are a lot of off-campus teams that play."
Trivia quickly became a Lawrence tradition, sweeping 686 sleepless players under its belt this year alone.
"I participate in Trivia because it is fun and it is one of the only traditions Lawrence has," said senior and member of team "Homemaker," Gillian Etherington. "It is important to trust the game to be fun and not super competitive."
Besides playing Trivia, one can apply to become a Trivia master and help run the contest. A total of 13 Trivia masters graced the radio waves this year.
"This was my first and only year being a Trivia master," said senior and Trivia Master Sarah Axtell. "I myself had a ton of fun getting to go on air and answering phones and, from what I gather, people who were playing seemed to have a lot of fun too."
"I started [playing] Trivia in my sophomore year because I had friends who were playing on Shrek, which was a big good time and I had a lot of fun," said senior and Trivia Master Willa Johnson. "I auditioned to be a master my junior year and it was all downhill from there."
Each master writes around 30 questions and organizes events to make Trivia what it is.
"It is a lot of administrative work but also a lot of talking about funny stuff we see on the Internet," continued Johnson. "The overall goal is to make the contest as fun and as inclusive and nondestructive as possible. Trivia should be fun, above all else."
"Trying to balance everything is pretty difficult. There are a lot of jobs to do and they're hard to do on not a lot of sleep," added Tankersley.
This year, Trivia included a medley of activities, including a campus-wide scavenger hunt, junior Leo Leventhal's 24-hour Heli Attack 2 competition and the final hour, which includes the garuda questions.
"It turned out that it was pretty easy to cheat [at Heli Attack 2], so we changed the rules to say 'This is how you cheat so now the objective is who can get the highest score by cheating,'" said Tankersley.
The winning team bested their competitors by putting a piece of tape on their computer screen with a multiplier of ten. This was sad news to Froman, who submitted a video that included a Photoshopped score at the end of the video.
"You need a big brain in order to get the question right. I, regretfully, did not use my brain enough to get a higher number on the page but I think, in my heart, I was the real winner," concluded Froman.
This year's Trivia masters have some advice for the future of Trivia, contestants and beyond.
"My two pieces of advice would be to start preparing before Winter Term, write questions before Winter Term, think about what you want to do before Winter Term," said Axtell. "During the contest, take care of yourself and put that above other things. That will make it more fun if you are in a good place mentally."
"My biggest advice is to let Trivia masters make the contest what they want it to be but don't forget that there are a lot of people playing that have expectations," said Tankersley.
Junior Jenny Hanrahan was deemed 2018's Trivia Head Master and Kevin Goggins, assistant director of campus safety, was named Honorary Trivia Head Master.
As Tankersley hangs up his cape and tries to catch up on lost sleep, he looks positively on his Trivia experience here at Lawrence.
"I haven't played it in a long time, and I miss it. Hopefully I have some people to play with next year," concluded Tankersley.
"Team Drinking in the Lounge" took first place for on-campus teams, while "Homemaker" took second and "Cult of the Pink Shoes" third. For off-campus teams, "Holy Broman Literary Society Presents: Adam Smith's Invisible Hand J**" won first place, "The Cailloutastrophe" came in second and "Hobgoblins of Little Minds" third.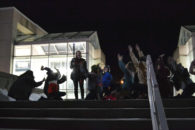 Trivia masters and players hail junior Jenny Hanrahan as new Head Master at Trivia's closing ceremony.
Photo by Emily Midyette