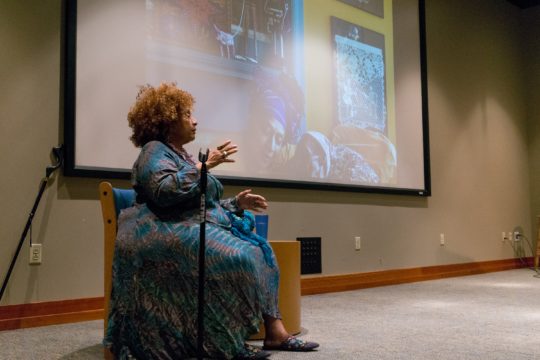 Photo by Taylor Blackson.
Before the audience heard her speak, they heard her sing, and it showcased the sheer presence of Joyce J. Scott. In the Warch Campus Center Cinema on Thursday, Sept. 19, Scott spoke with members of the Lawrence community about her art and her life. She chatted with and greeted people as the audience filed in, wearing a lavender beaded necklace that she had made and claimed as her own. She opened her presentation with a song, and after bantering with the lighting booth about how dim it should be, she began to tell her story.
As she worked through the prepared slides, Scott adlibbed with stories and anecdotes about interactions she had had with people (including her family) about the work that she had done. With both maternal and paternal grandparents being quilters, as well as her mother, it was almost a given that she would pick it up as a skill as well, as they taught her to use what she had to make what she could. No textile was thrown away. Each of them experimented with traditional patterns and techniques, using scraps of whatever had frayed around the house — towels, Uncle Benny's work pants, dresses that Scott had outgrown — and turning it into something beautifully encrusted with beads and stitch work. Scott described quilting as "a diary for preliterate people."
She began her art journey "in vitro," as she would say. Later she worked as a camp counselor and moved to college at Maryland Institute College of Art. Following her BFA, she received her master's degree in crafts from the Instituto Allende in San Miguel de Allende, Mexico. She spoke of the importance of traveling to learn from other people and in turn to share what you know with them. So that' is what she did. In Italy she learned about glasswork; another defining moment in her creative process was learning the peyote stitch, which gave her "true command of what was in [her] mind."
Within her pieces, Scott explores and creates dialogue using blunt imagery about politically, racially and sexually charged topics that are dear to her — from African albino violence to the objectification of women to slaves trying to escape slavery. She says visual art is the most powerful way to talk about the things that are giving her a hard time. Besides beads, she is known to use found objects, glass and other mediums. As a performance artist with several groups as well as on her own, she expressed herself in yet another way ­— rejecting the idea through her multi-faceted art that any ethnic group could only have one form of expression.
She currently has five pieces in the Bergstrom-Mahler Museum of Glass in Neenah. Her art is also featured as permanent fixtures throughout the world in galleries and exhibits such as the Smithsonian American Art Museum — where she was named as a Smithsonian Visionary Artist in 2019 — that showcase pieces with beads and glass from all different times and places, blending them together to carry on the tradition of visual arts that she has carried with her from generations before.