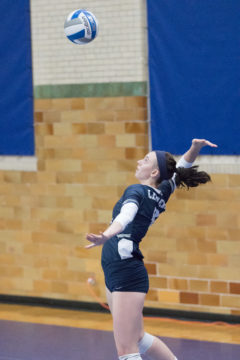 Photo by Sebastian Evans.
This past weekend, the Vikings played against Carroll College. The first set was neck-and-neck with Carroll winning by only 2 points. We dropped off in the second set and then rallied our way back in the third. The final score was three to one, with Carroll sealing the game in the fourth set. In an interview with women's volleyball head coach Kim Falkenhagen, she outlined what her goals are for this season: "Our goals for this season are to improve our record from last year, communicate more and become a more well-rounded team." On improvement of the team, she commented, "I am really proud of the team so far. They are working hard, learning a bunch of new things and learning how to implement them together. Some are also learning new positions. They are very receptive and a fun group to work with. Specifically, I would have to say our home match vs. Marian was the turning point to our successful fight. The team fought well, and I can see progress from that match to date." In response to what changed from the rally in the third set to fourth, Coach Falkenhagen said, "The team fought hard against Carroll, but in being a young team we will have bumps in the road until we find our consistency."
In an interview with sophomore #16 Sophia Galassini, she was asked at what age she started playing volleyball, why she still plays now and what she loves about the sport. She answered, "I started playing club when I was 12 after playing a few seasons at my elementary school. I was really tall and skinny for my age, so people often recommended me to play volleyball. Volleyball has been such a big part of my life for such a long time. I don't think I could ever give it up. I will definitely continue coaching after my collegiate years. I love the focus on the team and individual aspects of the game." In response to what challenges she faced during the game, she responded by saying, "Carroll had a pretty big block — as a front row player it was definitely a challenge to adjust hitting and focus on smarter attacking. If there was a rematch, we would just need to play our game and take care of business." Lastly, she answered what she thought happened from the third set to the fourth: "During the third set, we came out with a response to the first two sets. A theme throughout the season so far has been how we react to games and how we respond during the next game. We all were fired up after losing and that really motivated us to push during the third. Unfortunately, there was low energy and inconsistency during the fourth set. Carroll didn't do anything special; we definitely fed off of their low energy." That's what makes the grind so hard, it's easy to spark and ignite that ignition, but keeping your motivation consistent and constant, that's a whole new ball game. This time, unfortunately, that's what cost the Lady Vikes the game.