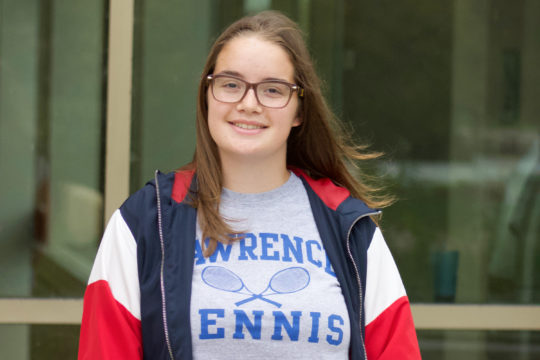 This past Sunday, I had the pleasure of hosting an interview with Amelia Watson, Lawrence's Athlete of the Week for women's tennis. A first-year tennis player for LU (in the very early season, no less), she maintained both a 4-0 record in singles matches and a 4-0 mark in doubles matches this week. Her perfect play was integral to the Vikings' squad, as they were the victors in all four of their matches. If she has this much to offer so early into her career at Lawrence, her potential in her upperclassmen years especially seems to be extraordinary.
Gannon Flynn: So, first week of the season and you're athlete of the week. How does that feel?
Amelia Watson: It was kinda crazy. I really wasn't expecting it at all.
GF: Do you think this a performance you can repeat?
AW: I mean, I hope so. It depends on the schools that we play. We're expected to do pretty well this year. We're trying to make the top four, So the teams that we played last weekend were OK, but we'll be facing better teams as the year goes on.
GF: Is there any specific area in your game you feel like you need to improve on?
AW: Probably my consistency. There will be times in matches where I'll be doing very well and maybe halfway through my singles match, my opponent will flip a switch and it'll be a lot harder for me to counter.
GF: What's a challenge or a team that presents the greatest obstacle to you?
AW: I don't really know a lot about the teams because I'm still a first-year, but I think St. Norbert because they're the most similar to us in our conference. I think that we can beat them, but I don't think it'll be a close match. We've had a lot of matches that haven't been exactly close, but we'll have to work harder to win against the teams later in our schedule.