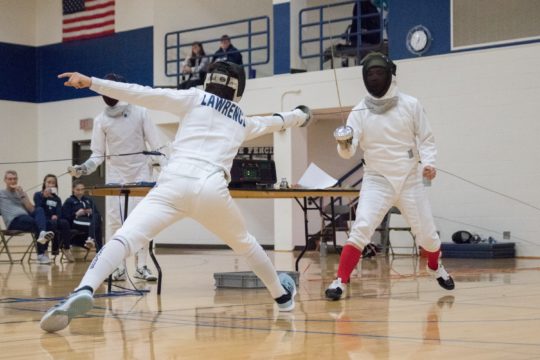 The Vikings fencing team was well-represented in the rankings in last weekend's competition in their only home match of the season. Senior Jakub Nowak won the mixed epee title for the men while juniors Vinzenz Mayer and Cameron Maas tied for third. Fencing's first-year Vikes had a blazing start to their season, with freshmen Timothy Parker and Ben Kelsey winning second and third in the mixed sabre event respectively. Freshman Bettina Coker also snatched a silver medal in mixed foil for the women. Lawrence had great success in the mixed sabre event overall, with senior Allison Kim (fifth place) and sophomore Lexi Praxl (sixth place) finishing in the top eight.
Kim, who also went 3-0 in sabre against UW-Madison, attributes her success to the support of her teammates. In order to prepare for competitions, the team will work on situational bouting and free fencing, which Kim said tests individual strategies. Kim points to the team's solidarity as a key reason for their success at the tournament.
"We have such a cohesive team," Kim said. "We know each other really well and we understand how stressful competing can be. So during competitions, we focus a lot on supporting and offering simple advice. On the strip, it's hard to take in information because your adrenaline is going and you're nervous. So simple things like 'keep your feet moving' and 'stay active' are easier to absorb. When you fence, you're partly fencing against an opponent and partly yourself. It's a head game."
When interviewed, head fencing coach Michael Hall praised Kim's commitment to the team and said that he believes she has been helpful in training the younger fencers.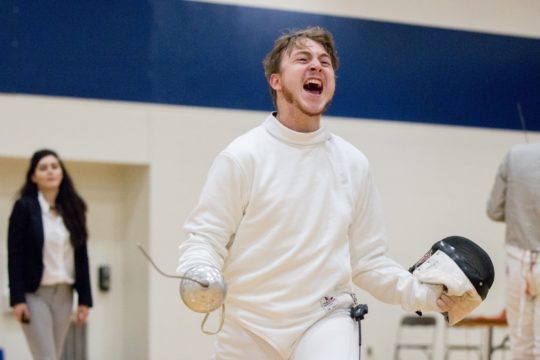 "She is a good teammate and a strong fencer who is always willing and able to help the team progress," Hall said. "It is especially notable that she has been one of the most consistent members of our team and squad; she has rarely had experienced teammates to support and help her, so she has spent every year here training new members of the men and women's sabre squads."
Along with Kim, Hall felt that many individuals on the team performed well, especially those who competed in women's epee, men's foil and women's sabre, all of whom finished undefeated. According to Hall, the fencers worked well as a team.
"I am particularly proud of all my first-year fencers," Hall said. "I have a beginner men's foilist who showed real skill and maturity in his first-ever fencing tournament and even won some bouts!"