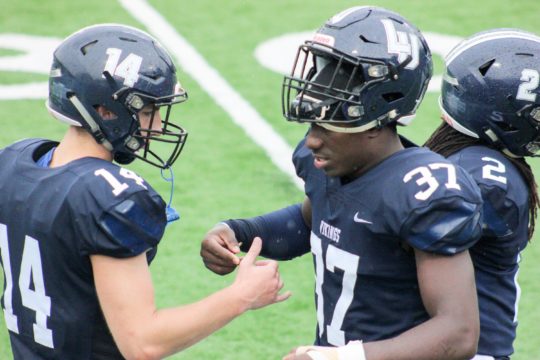 The fourth game of the Lawrence football season ended in crushing defeat as the team fell to Illinois College, 55-10.
Troubles began early for the Vikings, as the opposing Blueboys jumped to an early lead with 20 points in the first quarter. Their offensive unit took advantage of a rainy day, going to a ground-and-pound approach with a running back committee who contributed two of their six offensive scores. IC switched to an air attack in the second quarter, beating the Vikings' secondary and scoring twice; they added a third score defensively as freshman Ju'Qui Womack blocked a Lawrence punt and returned it for a touchdown. They added another receiving touchdown in the third, with Womack intercepting and securing his second touchdown of the afternoon.
Illinois would not put up any more points, but the damage had already been done; LU was down by 55 points in the fourth, and the 10 points Lawrence picked up before the game expired was far from what was needed.
Worse still for the Vikings, veteran cornerback senior Terrell Myers sustained a knee injury that took him out of the game's second half. He was positive about his outlook after the game, claiming he'd be "back by next week." However, the injury affects the same knee he'd had operated on this summer, so it is understandable if the team is more cautious about approaching his reps.
Despite the final score, the game should not spell doom for Viking football; five turnovers by the offense is upsetting to see in the box score, but it should not be expected that the team will lose possession so often in the future; more interceptions were thrown this game (three) than had been thrown in all previous games this season (one). Further still, the defensive collapse that occurred this week is terribly uncharacteristic of the club's usual work, as the unit has amassed four picks and a fumble through the prior three weeks, as well as having lost by 10 points at most in the second week.
Between the disheartening home loss and Myers' injury, this is definitely a game to forget for the Vikings. They fall to 1-3 on the season, while Illinois College bolsters their record to 3-1. The team will be looking to right the ship this Saturday as they face off against the Beloit College Buccaneers.