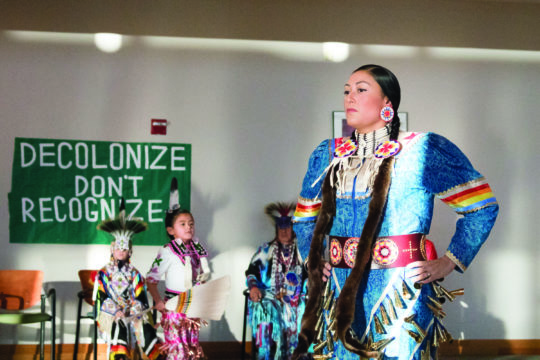 Last year's on-campus Indigenous Peoples' Day celebration, held on Oct. 14, 2019, featured a powwow dance performance by Oneida Nation dancers in traditional dance garments.
Photos by Sarah Navy.
Lawrence University Native American Organization (LUNA) hosted a virtual event to celebrate Indigenous Peoples' Day on Monday, Oct. 12. Their video can be found on the virtual events page of the Diversity and Intercultural Center website.
Indigenous Peoples' Day, the second Monday of October, is a day to celebrate and honor Indigenous peoples and recognize both their histories and continued resilience. Last year, Wisconsin became the 14th state to recognize Indigenous Peoples' Day as a state holiday. The date is still federally recognized as Columbus Day, but since the 1970s, many Indigenous communities have celebrated the day as Indigenous Peoples' Day instead. Junior Taneya Garcia, vice president of LUNA, says that this is meant to "combat the historical erasure of Indigenous cultures … that Columbus Day represents [and to] celebrate indigeneity."
LUNA has been celebrating Indigenous Peoples' Day on campus for at least six years. Usually, the event includes a live powwow demonstration by local members of the Menominee Nation followed by a traditional Native meal for Native American students and community members to share.
This year, the celebration looked different since an in-person gathering was not a safe option.
"I came up with the idea that we would record our stories or our perspectives of Indigenous Peoples' Day and why it's important to celebrate from a Native student's perspective," junior Jessica Hopkins, a religious studies major and the current president of LUNA, said. Hopkins and others shared their thoughts in the video released Monday.
The virtual celebration was unique from past events in that it included "clips and resources from a multitude of Indigenous cultures," Garcia said, "which gives you a little bit broader sense of the diversity of indigeneity in itself … We wanted to show that there is a diversity in indigeneity and that indigeneity isn't just represented in one way."
The video included prayers, messages from members of LUNA, a performance by Acoma Pueblo buffalo dancers and a story shared by guest speaker Ben Grignon, an award-winning high school teacher and member of Wisconsin's Menominee Nation.
"We thought that it was important to have the aspect of the Menominee Nation [represented] because Lawrence is sitting on stolen Menominee land," Garcia said, regarding Grignon's speech and story. "We realize that we would not be celebrating Indigenous Peoples' Day correctly if we didn't acknowledge that the Menominee Nation is a vital part of how we can exist as students on this land."
Along with the video, LUNA encouraged viewers to donate to Partnership With Native Americans (PWNA), an organization that raises funds to help Indigenous communities in need. Many Native American tribes have been hit especially hard by the COVID-19 pandemic, which is one of the issues that PWNA is addressing, as well as one of the reasons that this year's Indigenous Peoples' Day celebration had to be virtual, according to Hopkins.
Despite the inability to gather in person, organizers worked to make this celebration impactful in different ways.
"This year, it's more of a personal approach to it, letting down the walls a little bit," Hopkins said. "I wouldn't say that we let you see the dark and the sad and what it really means to us, but it is kind of the start of what it means to be Indigenous on Indigenous Peoples' Day."
The virtual format also allowed for a broader audience and sense of community that spanned beyond Appleton and the Lawrence campus. Garcia and other members of LUNA shared the video with their hometowns and communities in addition to sharing it with the school.
"I think that was definitely a plus that a lot more people got to be engaged with our celebration this year because we were remote, and it was accessible to so many," Garcia said. "… It was a little bit sad that we couldn't come together, but it really did show the resilience of people's indigeneity by celebrating the day even though we couldn't physically be together."
Across the country, Indigenous communities celebrated Indigenous Peoples' Day on Monday, and Garcia believes it is important that everyone celebrates with them.
"I think it's important for everybody, especially on the Lawrence campus, in Appleton and in the United States, to celebrate Indigenous Peoples' Day because no matter where you are in the United States, you are sitting on stolen land [that] was forcibly taken from Indigenous populations," Garcia said. "Acknowledging and celebrating the people whose land you're on is a sign of respect, I think. I hope that people did celebrate Indigenous Peoples' Day with us and continue to celebrate, but I also hope that their allyship doesn't stop there." Garcia continued, "It's important that we celebrate Indigenous Peoples' Day but also continue to think about the year-long effects of uplifting Indigenous people and their voices."