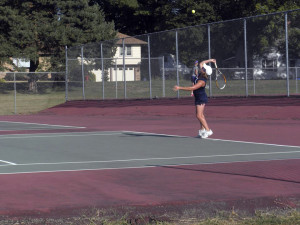 LU women's tennis continued their impressive season this weekend with a win over University of Wisconsin River Falls (UWRF) and a close loss against Grinnell College. "We're really happy with how the season is going so far. Our play this past Saturday and Sunday just added to that," said sophomore Ali Hiering.
The team entered Saturday's match against the UWRF Falcons having won five of their last eight matches. The Vikings were able to extend their hot streak by defeating the Falcons in an 8-1 rout. Seniors Gayatri Malhotra and Polly Dalton defeated their opponents in straight sets. Also winning in straight sets was freshman Kathleen Frankel, who defeated junior Brittany Mohn for her first collegiate victory. The only Lawrence loss came in a close singles competition between Lawrence junior Melissa Heeren and UWRF freshman Anna Ebensperger.
The streak was stunted, however, by a tough loss to Grinnell College the next day. Despite the loss, Heeren was able to make a strong showing and a personal comeback by winning her singles match 7-6, 6-1 against Grinnell freshman Briannah Wilson. The Vikings lost 8-1 to the Grinnell Pioneers (7-2), a Midwest Conference rival. The defeat pushed LU's win-loss record to 7-6.
Following the match, Lawrence's overall record dropped to fourth place in the MWC North division, while Grinnell sits in first place in the MWC South division. "We played two really tough matches," said Hiering. "UWRF has a really good team and Grinnell is the conference Champion, so we were happy with how we played."
LU women's tennis has displayed a lot of resilience this year and improved greatly over last season. One of the biggest reasons for such improvement this season has to be new coach Steve Francour. Francour, who came to Lawrence from UW-Oshkosh, has brought a new attitude and approach that is popular amongst the players and coaching staff alike. "We all really love Francour," said Hiering. "There's been a ton of progression this year and he deserves a lot of credit for that." Before coming to Lawrence, Francour piled up a record of 156-150 as head coach of women's tennis over his 23 year career at UW-Oshkosh.
The team faces one of their greatest challenges this weekend with matches against conference opponents Carroll College and Beloit College. Carroll is currently ranked in second place in the MWC North, while Beloit sits right behind Lawrence at fourth place in the division.