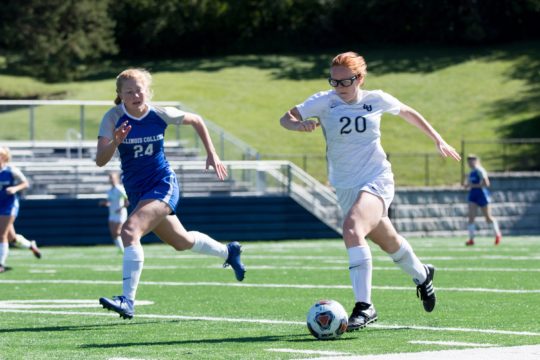 As Parents' Weekend rolled around for women's soccer, the stands at the Banta Bowl were full of positive energy, all hoping for their children to be the backbone of a Lawrence win. On Saturday, however, feelings in the crowd grew tense as the matchup transitioned into a defensive standoff between the Vikings and Illinois College (IC). Lawrence's defense as a whole was phenomenal, as the squad bottled up their opponents by limiting them to only three shots on the goal through the entire matchup. Illinois looked lost on Lawrence's side of the field, unable to pierce their stout defense and often ending drives by sending the ball either out of bounds or into LU's possession. Freshman goalkeeper Sarah Yochem added to the Viking's defensive stand, making saves on two of their three attempts.
Despite Lawrence's successes locking down IC, as well as the Vike's own offensive skills to get past Illinois' defense and attempt 29 goals, Illinois goalie Charlotte Crofton was able to help stall Lawrence through both halves by making 18 saves for the Blues. In fact, the closest to a goal in regulation was made by Lawrence; freshman Samantha Tolu hit a quick assist to freshman forward Jackie Blake within the final two minutes, and Blake's attempt was off by mere inches. Undeterred by the valiant effort by Crofton and Illinois' penchant of grinding down the clock by stalling near the boundaries, Lawrence downed Illinois in the very last minute of overtime's first period. After a hurry-up march down to the Blue's side of the field, Blake passed to freshman defender Adrianna Hudyma, who sealed the game with a goal. The contest ended in storybook fashion as the home crowd of Viking parents erupted in cheers and their daughters walked off the field victorious.
Saturday was a good day for Lawrence soccer on the whole. The men's team won their matchup in a similar fashion, breaking a 2 –2 tie against Illinois with an overtime goal. Lawrence University's record improved to 6 –3 on the year, as well as securing a crucial conference win (1–0), which is women's soccer's first since 2015. Illinois College falls to 5 –4, now behind Lawrence in conference wins at 0 –1.