As part of Winter Carnival, Lawrence students decorate gingerbread houses in the Somerset Room of the Warch Campus Center on Tuesday, Feb. 2.
Photo by Sebastain Evans.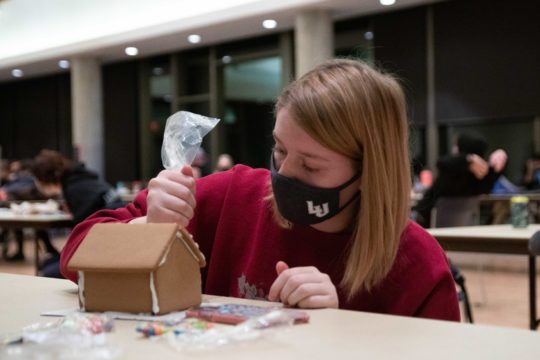 Lawrence's annual Winter Carnival began Monday, Feb. 1 and will conclude on Sunday, Feb. 7 with a celebration of the Superbowl. The Student Organization for University Planning (SOUP) organized and adapted the week-long event to be socially-distanced and to conform to current COVID-19 guidelines on campus.
Earlier this week, SOUP hosted several socially-distanced events on campus, including a scavenger hunt, raffle, gingerbread house competition, snow-globe making event and grocery bag BINGO. Events were either held in large, open spaces or were grab-and-go. Despite the necessary changes to the Winter Carnival in the name of safety, SOUP aimed to make this year's events more interactive than in previous years, as per students' requests.
Sophomore Shae Erlandson, who competed in the gingerbread house competition on Tuesday, said that she valued SOUP's efforts to host these events amid the pandemic.
"I appreciate it a lot," Erlandson said. "I think that [SOUP] is doing the most that can be done, and I think they're doing a very nice job with the limitations that are in place this year."
Tonight, SOUP is hosting magician David Anthony at 7 p.m. Students can either view Anthony's performance in-person and socially-distanced in the Somerset Room of the Warch Campus Center or tune in virtually via Zoom. Saturday's events include broomball on Ormsby Lake, a snowman competition and a virtual "No Presence Ball." Sunday, a Superbowl celebration — the SOUPerbowl — will be held in Warch.
"Winter Carnival, I think, is one of the most special things that Lawrence has to offer," said SOUP Co-President, senior Stephanie Meyer. "It's a time [when] the community comes together and celebrates a Lawrence tradition. It sort of unites all people who have ever gone to Lawrence . . . We wanted to make sure that, in these uncertain times, where everyone is stressed out and feeling a little frustrated with life, that [the Winter Carnival] could provide a reprieve and give them a chance to be a part of the Lawrence community and this tradition."
The No Presence Ball, rather than the formal, in-person President's Ball — which is traditionally held during the Saturday of Winter Carnival — will be held over Zoom on Saturday at 7:30 p.m. This is meant to serve as a COVID-safe opportunity for students to dress up and participate in a dance from the safety of their dorms. Residence hall lobbies will have photobooths run by professional photographers and be stocked with grab-and-go gourmet cupcakes.
This does not replace the President's Ball, which has been rescheduled to Saturday, Feb. 20 and is still undergoing adaptations.
"SOUP has been working really hard to make sure that [the President's Ball] will still happen in some sort of capacity," Meyer said.
The official event has not been fully finalized yet but is currently being planned by SOUP.